Fishing from a paddle board is both exciting and peaceful. It is one of those things that you just can't get enough of. But to have a great SUP fishing experience, you first need to buy a good fishing paddle board.
With all the options on the market, how do you do that? It is easy to find yourself confused. You can't test every paddle board to know which one is right for you.
That is why I'm here to help by telling you about the 10 best fishing SUP boards. I also talk about how to choose a fishing paddle board and all the information you need to get started.
My top choice when it comes to fishing paddle boards is the Sea Eagle FishSUP.
Best Fishing SUP
Designed specifically for anglers, this stable SUP is long, wide and can hold up to 500 lbs! More than enough space for you and all your fishing gear – plus it includes a built-in fish ruler and removable rear motor mount too.
The Sea Eagle FishSUP is designed specifically for anglers. It is long and wide with a large swallowtail. Its stability is incredible. You can sit or stand and you won't have to worry about falling in.
This SUP will even accommodate two anglers without losing stability. It can hold up to 500 pounds, which is amazing. Feel free to bring all your fishing gear.
The Sea Eagle fishing paddle board comes with a paddle holder and D-rings for securing your paddle and gear. It also has a built-in fish ruler and a removable rear motor mount.
This inflatable fishing SUP is available in several packages which we will discuss in detail below.
See The 7 Different Sea Eagle FishSUP Packages
While I would recommend the Sea Eagle FishSUP to almost all anglers, others may have different preferences.
So keep reading for more fishing paddle board reviews.
Best Budget Fishing SUP
Great for anglers on a budget, the Model XL is wide and stable enough for fishing, with a large deck for carrying your gear. An affordable fishing SUP that will do the job for most angling enthusiasts.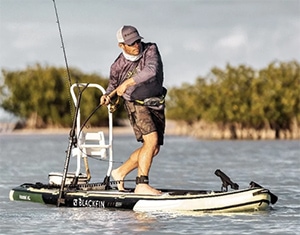 Fishing boards can be expensive. If you are looking for a more affordable paddleboard that will do the job, I recommend the Blackfin Model XL.
It is long and wide enough at 34 inches, which gives you a stable platform for fishing. The stand up paddle board is super rigid, with carbon rails, and can hold up to 485 pounds.
It features 20 D-rings and 8 action mounts. This, and the large deck, allows you to bring all your gear and essentials. It is compatible with a fishing rack and sand spear.
Also read our article about the best motorized paddle boards for fishing.
Best Fishing SUP Comparison Table
Best Fishing Paddle Board Reviews
Let's go through the features, pros, cons and feedback from customers to know which one will suit you perfectly.
1. Sea Eagle FishSUP 12'6 Inflatable Fish SUP – Best Fishing Paddle Board
The Sea Eagle inflatable paddle board was made with one thing in mind: fishing. It comes with almost every feature you could ever ask for.
The stand up paddle board is large, measuring 12'6 long and 40 inches wide. It is built using 1100 Decitex reinforced dropstitch. This makes it one of the toughest and most stable paddle boards you can find.
Whether you are at the lake, ocean, or wherever you like to fish, you will appreciate the incredible stability of this paddle board. With its size and swallowtail feature, falling off is extremely hard 😉
The deck pad on the Sea Eagle inflatable paddle board is camo-patterned. It prevents you from slipping, especially when the board is wet. It also offers extra protection against damage.
Trying to hold on to your paddle while fishing at the same time can be difficult. That is why the Sea Eagle FishSUP comes with a conveniently located paddle pocket. Quickly put away your paddle and enjoy a stress-free fishing experience.
The board also has sufficient D-rings and a removable motor mount.
One of the many things every fisherman will appreciate about the Sea Eagle FishSUP is its built-in fish ruler. No more stressing about lost rulers.
Another awesome thing about the Sea Eagle inflatable SUP is that it offers seven amazing packages depending on your budget.
Start Up Package
With this one you get:
Paddle board
SUP paddle
Backpack
Storage box
Repair kit
SUP pump
It is the most affordable package for those on a tight budget.
Deluxe Package
Paddle board
SUP paddle
Double-bladed paddle
Backpack
Storage box
Repair kit
SUP pump
Deluxe seat
Swivel Seat Fishing Rig Package
Paddle board
SUP paddle
Double-bladed paddle
Backpack
Storage box
Repair kit
SUP pump
Swivel seat
Pro Motor Fishing Rig Package
Paddle board
SUP paddle
Double-bladed paddle
Backpack
Storage box
Repair kit
SUP pump
Swivel seat
Trolling motor power center
Watersnake Venom electric motor
Ultimate Package
Paddle board
SUP paddle
Double-bladed paddle
Backpack
Storage box
Repair kit
SUP pump
Electric pump
Swivel seat
Trolling motor power center
Watersnake Venom electric motor
EZ cart
Ultimate Two-Person Package
Paddle board
SUP paddle
Double-bladed paddle
Backpack
Storage box
Repair kit
SUP pump
Electric pump
Two swivel seats
Trolling motor power center
Watersnake Venom electric motor
7" pedestal
Green Machine Package
Paddle board
SUP paddle
Double-bladed paddle
Backpack
Storage box
Repair kit
SUP pump
Swivel seat
Deluxe inflatable kayak seat
Trolling motor power center
Watersnake Venom electric motor
Solar panel
There's a package for everybody!
Sea Eagle Features and Specifications
1100 Decitex reinforced drop stitch construction
Protective non-slip EVA deck pad
Built-in fish ruler
14 D-rings for gear attachment
Removable rear motor mount
Large swallowtail
Paddle pocket
Three removable fins
Seven packages available
Front bungee system
Measures: 12'6 x 40" x 6"
Weight capacity: 500 lbs
Weight: 44 lbs
7 Different packages to choose from
Extremely stable
Swallowtail feature
Very well made and durable
No pre-installed Scotty mounts
A little heavy
Customer Feedback
The Sea Eagle FishSUP is solid and durable, according to users. They are having an amazing time accessing fishing spots that are not reachable by boat.
Paddlers love the accessories that come with the inflatable paddle board as well.
There aren't many complaints but some people have mentioned that the board can be heavy and manually inflating it is a workout.
Check Price of the Sea Eagle FishSUP
2. Blackfin Model XL – Best Budget Fishing SUP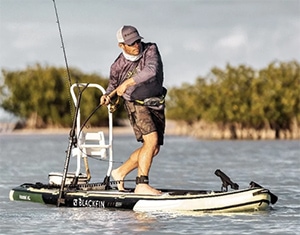 The Blackfin XL is a premium versatile model from iRocker. It delivers great performance and a nice platform for fishing.
This paddle board is 11'6 long and 34 inches wide. Unlike most of the really wide fishing paddle boards, it glides with impressive speed. You can cover more distance in a shorter time.
The moderate width and length balance both speed and stability.
The Blackfin Model XL comes with 20 D-rings and eight gear mounts. It allows you to attach fishing accessories such as fishing rod holders, action cameras, and so much more. It also has two bungee storage areas, at the front and back.
The paddle board features a three-fin setup; a center fin and two side fins. All of them are removable. You can configure the setup depending on where you will be paddle boarding.
The Blackfin Model XL is made using triple-layer composite PVC and it has carbon rails. It is extremely durable and virtually indestructible. It has a weight limit of 485 pounds.
The iSUP package includes a wheeled backpack, carbon-shaft paddle, dual-chamber hand pump, leash, and repair kit.
The Blackfin Model XL is compatible with the following amazing accessories.
The Blackfin fishing rack will come in handy if you want more mount options for your gear and rods. It has an in-built storage tray and holds two fishing rods. You can use it to hang your gear.
With the iRocker fishing rod holder, you don't have to worry about your fishing rod ending up at the bottom of the lake.
You will need the Blackfin sand spear/push pole if you will be paddle board fishing in shallow water. It helps with maneuvering and also works as an anchor.
Features and Specifications
Triple-layer composite PVC construction
Carbon rails
Two bungee storage areas
20 D-rings, eight action mounts
Six color options
Three removable fins
Three grab handles
Four safety handles
Measures: 11'6 x 34" x 6"
Weight capacity: 485 lbs
Weight: 29 lbs
Lots of attachment points for gear
Super stable
Quality construction, durable
Premium SUP accessories in package
Customer Feedback
Most people went with Blackfin because of stability, and it did not disappoint. One angler goes fishing with his two young kids and the paddle board holds them without a problem.
Paddlers love the attachment points because they can bring a lot of gear. There are also comments about how well the Blackfin Model XL glides.
Check Price of the Blackfin Model XL
3. Glide Angler Fishing Paddle Board
The Glide Angler, as you can tell from its name, is designed specifically for fishing. It promises to solve all your fishing problems. But does it deliver?
This Glide fishing paddle board is built using ultra reinforced dropstitch and fusion technology. It features reinforced rails and you can easily mistake it for a solid paddle board when fully inflated.
It has a weight capacity of 400 pounds–which is enough for you and your gear. With a length of 11 foot and a width of 36 inches the Glide Angler is a stable platform for paddle board fishing.
Often, the wider a board is, the more resistance it has through the water and the slower it is to paddle. The pointed nose of the Angler gives it less resistance than I expected and easy enough to paddle.
The SUP has front and rear bungee storage, D-rings, and four deck mounts. You won't have to leave any essential items behind. The Angler is also compatible with the Bote Tackle Rack for even more mount options.
The Angler fishing SUP has 2 stake pole mounts, one on each side of the board. So don't forget to pick up the optional 7 foot Glide Anchor pole, that makes anchoring your board in shallow water much easier.
The Glide Angler inflatable package includes an adjustable paddle, roller backpack, leash, repair kit, high capacity pump, kayak seat, 2 rod holders, and a carry strap. This is a fantastic deal!
Features and Specifications
Three grab handles
Ultra reinforced dropstitch and fusion technology
Two bungee cargo areas
Additional D-rings
Four deck mounts
Large, non-slip deck pad
Single-fin system, US fin box
Reinforced rails
Measures: 11' x 36" x 6"
Weight capacity: 400 pounds
Weight: 30 pounds
Kayak seat and 2 rod holders in package
High weight capacity
Unmatched rigidity
Stable
Customer Feedback
Most users regret not getting into SUP fishing sooner. They are having so much fun with the Glide Angler fishing paddle board.
All paddlers agree that the rigidity is exceptional–hard to believe it is an inflatable. They love the stability and attachment points. The SUP also performs well on the water.
4. BOTE Rackham Aero Stand Up Paddle Board for Fishing
The BOTE Rackham Aero is a long, thick, and wide board. It has a recessed deck that lowers your center of gravity. The paddle board is remarkably stable.
But that is not the only thing that makes it a great fishing paddle board.
The Rackham Aero has front and back bungees for gear storage. It has D-rings, paddle and sand spear sheaths as well as gear mounts for your fishing accessories.
If you are looking to fully customize a stand up paddle board for fishing, consider the BOTE Rackham Aero. It is compatible with a wide range of fishing gear and accessories.
The inflatable paddle board package includes a 10" removable center fin, paddle, hand pump, rac receivers, paddle sheath, sand spear sheath, and a repair kit.
Features and Specifications
Dual chamber design
Recessed deck
Full-length traction pad
Front and rear bungee storage
D-rings and Scotty mounts
Three-fin setup, removable center fin
Grab handles
Removable paddle sheath
Removable sand spear sheath
Measures: 12'4 x 38" x 7"
Weight capacity: 400 lbs
Weight: 45 lbs
Ultra stable
Enough attachment points for gear
Compatible with tons of accessories
Reliable construction, 2-year warranty
A little heavy
No leash in package
Customer Feedback
BOTE boards never disappoint, and the Rackham Aero fishing paddle board is no different. Paddlers say it is huge and super stable.
They all agree that it is well-made and solid. A number of them recommend getting an electric pump. Manual inflation takes a lot of energy.
Check Price of the Bote Rackham Aero
5. Aqua Marina Drift Fishing Paddle Board
Aqua Marina is a well-known brand and the quality of their products is something worth writing home about. Their Aqua Marina Drift Fishing iSUP has been made specifically for stand up paddleboard fishing. It has a double-sided rail design outline to ensure maximum stability as you cruise the waters. There are two fishing rod holders to keep your deck organized and a removable cooler box.
The Aqua Marina inflatable is a super tough board and you will have no worries while fishing. The entire deck is covered in a traction pad for your comfort and stability. In addition to all these, this fishing iSUP has the following cool features to offer.
Features and Specifications
Includes Kool fishing cooler with high back seat, bait well and storage boxes
Elastic bungee cords for securing cargo
Has fishing rod-holders on both sides
Independent side chambers for safety and stability
Made of PVC material and Dropstitch construction
Comes with 7 stainless steel D-rings; 4 on the nose, 2 in the center for attaching cooler box and 1 for safety leash
Has a detachable centre fin
Paddle holder
Comes with carry bag and pump
Maximum weight: 287 lbs
Dimensions: 10'10" x 38" x 6"
Volume: 284 liters
Thick, tough and sturdy
Independent side chambers enhance balance
Includes a cooler in the package
Comes with carry bag and pump
High back seat on the cooler for you to sit comfortably
No paddle in package Paddle included since 2019
Customer Feedback
Users are impressed with this fishing paddleboard. It is well made and sturdy. The cooler box saves them the trouble of shopping for a cooler box and seat. The side chambers are great for the much needed balance while struggling with a big one.
6. NRS Heron Fishing SUP Board
The NRS Heron inflatable SUP has been designed purposely for stand up paddleboard fishing. It is made with the Dropstitch PVC construction which makes it tough enough for fishing in lakes, ponds and rivers. There are side channels on the board for enhanced stability as you fish.
This fantastic inflatable SUP fishing board comes with six stainless steel D-rings for your gear. Additionally, NRS have included a high pressure pump, a pressure gauge, a carry bag, two fins and a repair kit to make work easier for you.
Features and Specifications
Amazing package deal; carry bag, high pressure pump, two fins, pressure gauge and repair kit
Dropstitch PVC construction for stiffness and durability
Six stainless steel D-rings for your gear
Three interchangeable fins
Three accessory mounts and front deck bungee
Two carry handles
Inflates to 20 PSI
Dimensions: 11' x 39" x 5", 7″ side chambers
Weight: 30 lbs
Great package deal
Stiff and stable
Durable and reliable
Does not include a paddle
Customer Feedback
The NRS Heron inflatable SUP has been received well by paddlers. This board is excellent for fishing as it has maximum stability. The customers agree that the accessories included in the package offer convenience and save them a few bucks. The overall performance of the Heron is commendable.
7. SUP OnTheFly Guide Stand-Up Paddle Board
Well, SUP OnTheFly were generous with the deck size with this board. The Guide fishing paddle board is very wide and long, perfect for any SUP fisher. The large deck offers stability and offers plenty of room for all your gear and maybe an extra rider. Given its dimensions, this iSUP can be used for all kinds of SUP variations by paddlers of all skill levels.
The board has been made with Advanced Rocker Construction (ARC) making it stiff, stable and agile. SUP OnTheFly give a great package deal. They include; a high capacity hand pump and a quality bag with wheels and backpack straps.
Features and Specifications
Has a full length traction pad for secure footing and comfort
Nine stainless D-rings for straps
Comes with a backpack and a pump
Has 4" side bite fins and an 8" flex fin
Size of the deck offers a large stable surface for fishing
Durable bag with big wheels and straps
One year warranty
Dimensions: 11'3 x 37" x 6"
Weight: 36 lbs
Capacity: Newbie – 400 lbs, intermediate – 553 lbs, expert – 602 lbs
Super stable
Ample deck space
High quality bag
Great capacity
Does not come with leash and paddle
Customer Feedback
The SUP OnTheFly Guide paddleboard is indeed stable judging from the feedback. The big capacity favors many riders and it can easily accommodate an extra companion. The bag that comes with the SUP board is not cheaply made. The large deck space is also mentioned and appreciated.
8. California Board Company 11′ Angler Fishing SUP
The California Board fishing SUP a well-built, tough and reliable board to ensure that your fishing trip goes smoothly. Everyone can enjoy this board including newbies and intermediate paddlers. The blue and white epoxy fiberglass that makes it is light for easier transport and rugged for the best performance.
The California fishing SUP comes complete with a leash, a gear rack, a built-in carry handle, an attached bungee and one fin, helping you save a few dollars. It has a V-hull nose and supports up to 250 pounds.
Features and Specifications
Centered carry handle for easy transport
Two layers of fiberglass and five layers of epoxy resin for durability
Has a V-hull water displacement nose
Comes with bungee, 10" leash, a fin, carry handle and a gear rack (holds two rods)
Dimensions: 11′ x 30.7″ x 4.5″
Capacity: 250 lbs
Weight: 30 lbs
Easy to transport
Comes as a complete package
Durable
Stable
Weight capacity is rather low
Customer Feedback
The California Board Company 11 ft. Angler fishing SUP is great; it has amazing stability and maneuverability according to the users. The included accessories are a big plus and on top of that, the board is highly durable.
9. Imagine Surf V2 Wizard Angler SUP
If you are looking for a versatile fishing board, then the Surf V2 Wizard from Imagine Surf is for you. Its width and stability will ensure that you will not lose your balance even if you are not a SUP pro. The Angler fishing SUP board has some pretty amazing features like a built-in seat, four fishing mounts, among others, to give you the best standup paddleboard fishing experience.
The blow-molded polythene that makes this board is tough and it will get through extreme conditions. This SUP fishing has a board capacity of 305 lbs which makes it less limiting to the amount of gear you can bring with you. It looks good too and comes in three colors; green, orange and yellow.
Features and Specifications
Has a paddle clip, four fishing mounts and two rod holders
In-built flip up seat—strap it with bungees when you are not using
Comes with two storage hatchets for large and small cargo
Cargo bungee for securing your fishing gear
Blow-molded polythene to make it tough and durable
Brushed EVA deck pad for comfort and traction
Has Sweet-Spot markers to help you stay in balance
Toolless snap-in fin system to make work easier
Dimensions: 11' x 35" x 8"
Capacity: 305 lbs
Weight: 68 lbs
Comes with flip-up seat
Full-length deck pad enhances comfort
Sweet-Spot markers—perfect for maintaining balance
No tools needed to install fins
Cargo bungee for your gear
Customer Feedback
The general feedback is positive. The board is well built and offers maximum stability. It handles waves very well and users did not fail to notice that. The deck size is great and users are able to fit in all their SUP fishing necessities.
The only thing that SUP fishers are complaining about is the weight.
10. Z-Ray 11' Fishing SUP
The Z-Ray 11' is an all-round paddleboard, perfect for different uses; among them, paddleboard fishing. The inflatable fishing paddleboard has been made with Dropstitch construction to enhance its rigidity and durability.
The board has a central fin, and two side fins, which is great for keeping course and is wide enough, making it ideal for fishing. The enhanced stability is also great for SUP beginners as it makes it easier for them to remain on board.
The fishing iSUP includes all your paddling necessities in the box. Apart from the board, there is a high pressure inflation pump, an aluminum paddle (adjustable 65" to 85") and a carry bag. With lots of grommets on each side of this fishing board, it offers plenty of storage for your cooler, gear and seat.
Features and Specifications
Comes as a complete package; carry bag, pump and paddle
Patented Dropstitch construction
Lots of grommets for storage
32 inches width offers ultra stability
Hand grip for carrying board when inflated
Lightweight, portable and easy to store
Capacity: 330 lbs
Volume: 275 liters
Weight: 28 lbs
Dimensions: 11' x 32" x 6"
Complete package
Hand grip for easy transport to the water
Lightweight
Plenty of storage
Does not come with ankle leash and repair kit
Customer Feedback
The general feedback for the Z-Ray 11' fishing board is positive. They found it easy to set up, inflate and deflate. The bag is large enough and perfectly fits the board. Whether inflated or deflated, this iSUP is lightweight and does not pose any problem when transporting.
Buying Guide: How to Choose a Paddle Board for Fishing
Having the above great options is nice. But how do you decide which fishing paddle board is perfect for you?
Here is a comprehensive guide.
Why Use a Fishing Paddle Board?
You may wonder why an angler would want to use a fishing paddle board instead of a fishing kayak or boat.
YOU MAY ALSO LIKE: Paddle Board vs Kayak Fishing – the Pros and Cons Discussed.
Stand up fishing paddle boards are not bulky. Unlike fishing kayaks and boats, fishing SUPs are lighter and smaller. An inflatable SUP, especially, doesn't need a huge storage area. Once deflated and in a backpack, it can fit anywhere.
SUPs are cheaper. You cannot compare the price of a paddle board with that of a boat or even a proper fishing kayak. You can get a high-quality fishing paddleboard starting from $1000 only.
Your chances of catching fish are higher. It is easier to sneak up on fish with a SUP. Stand up paddle boards are not noisy. They glide quietly above the water, barely creating waves.
Additionally, standing on a paddle board gives you a better view of your surroundings. There is no obstruction and you can move around or rotate freely.
Lastly, SUP a full-body workout. Stand up paddle boarding engages every muscle in your body. It is a fun way to work out, clear your mind, and catch some fish at the same time.
Inflatable Vs Rigid Stand Up Paddle Boards for Fishing
Both rigid and inflatable paddle boards are good for fishing. But each type has its advantages and disadvantages.
Inflatable SUPs are best suited for people with limited storage space. If you live in a small apartment, a fishing iSUP may be the better option for you.
Inflatable paddle boards are easier to transport too. You won't need a roof rack and tie-down straps. They are also lighter.
Generally, solid fishing paddle boards glide better than inflatable ones. You should consider a solid paddleboard if you want amazing performance and you have enough storage space.
What to Look for in a Fishing Paddle Board
1. Stability
This is a key factor when it comes to fishing paddle boards. You don't want to end up in the water when trying to cast.
Wider, longer, and thicker SUPs are more stable. This explains the sizes of the stand up paddle boards discussed above. You may also have noticed that they are heavier, something that adds to stability.
So you want to avoid really narrow SUPs.
ALSO READ: SUP Bowfishing – How to get started.
2. Attachment Points
D-rings and action mounts provide a way for you to secure and organize your gear. There are few things more painful than losing expensive fishing gear.
This also includes your paddle so you will need a SUP with a paddle holder.
3. Weight Capacity
Every paddle board is designed to hold a certain amount of weight. If you overload it, the performance will be affected and it will be hard to control the SUP.
Before you buy a fishing paddle board, check the weight limit. Make sure it can you, your gear, and maybe your kid or dog if you want to bring them.
4. Deck Pad
A SUP deck pad serves two purposes: it offers comfort and traction.
Paddle board fishing involves standing for hours. A soft EVA foam deck pad gives you a comfortable platform to stand on.
Sliding on your wet paddle board is easier than you think. That is why you need a traction pad.
Some fishing paddle boards may come with a full-length deck pad. Others have a pad that covers only a part of the deck. This is a matter of personal preference.
How To Get Started With SUP Fishing
Outdoor activities are meant to be thrilling and challenging; to help you get a breath of fresh air far away from everyday life while keeping you fit. Fishing fits perfectly into this category. Originally, people fished for food. Today, it is done as a hobby and a form of mental and physical exercise. For this reason, people are always coming up with new ways to make it more exciting and productive. One of these ways is SUP fishing.
Paddleboard fishing has been around for quite some time now. Also known as "Man on Fish" and "Extreme Fishing," this practice is rapidly gaining popularity and more fishing enthusiasts are turning to it. Paddleboards are cheaper compared to boats and they can get you to where boats cannot. More importantly, SUP fishing adds a little more challenge and lets you enjoy the numerous health benefits of SUPing.
This article is the ultimate beginner's guide to SUP fishing. It includes the equipment and gear that you will need, along with a few tips to start you off.
TIP: Read our article about the ideal paddle board fishing setup – how to rig your SUP for fishing?
SUP Fishing Essentials
A Fishing Paddle Board
This is a very obvious one but crucial; getting yourself the wrong paddleboard will spoil the whole thing for you. There is not one specific type and size of paddleboard that suits all. Where and how you plan to fish, the type of fishing you want to venture in, among other factors are critical when choosing the best SUP fishing board.
The first thing to consider while getting yourself a board is the hull type. The two most common hull types are a displacement hull and a planning hull. SUPs with a displacement hull are longer and more streamlined. These boards have great speed. Boards with a planning hull, on the other hand, are usually flat and wide. They are the best for SUP fishing.
The next thing you need to consider is the size of the board, both the length and the width. The bigger the paddleboard the easier it is to fly fish on—it's a no-brainer. You need a board that is stable and gives you enough room to move around. Your weight will determine if a standup paddleboard is wide enough to warrant stability. A lighter person may not need a very wide paddleboard. The best SUP fishing board should range from 30" to 39". The recommended length is 10' to 12'.
Different paddleboards have different weight capacities. Some can only hold 200 lbs while others can hold more. Take your weight and add the estimated weight of your SUP gear. A paddleboard with a bigger capacity is more stable but may not have great maneuverability.
Finally, do you go for an epoxy fishing paddleboard or an inflatable fly fishing board? Each of the two types has its advantages and disadvantages. The epoxy board is stable, glides better and is quiet but it will cost you more and it has a smaller surface area. The inflatable is portable, cheaper, has a larger deck, has mount attachments and is relatively cheaper. However, its speed is limited in the water.
ALSO READ: How to get started with paddle board fly fishing.
A Paddle
Just like a SUP fishing board, the right paddle is key to an amazing experience. A standup paddle looks like a canoe paddle, except it is a little bent near the blade. Although the board will influence the kind of paddle you will get, your height is the primary determinant. The perfect one should be 4 to 7 inches taller than you.
Paddles are made of different materials—plastic, carbon, aluminum, etc—the lighter the paddle the more you will have to spend. Remember, a heavy paddle will fatigue your arms.
A Leash
If you buy an inflatable paddleboard, it will most probably come with a leash. Always make a point of having a leash strapped to your ankle when you are out in the water. It is especially important during SUP fishing because you may need to struggle with a big fish.
Personal Floatation Device
In many coastlines, a floatation device (SUP PFD) is a must-have. For your safety and that of other water users, have one on you every time you go SUP fishing.
SUP Fishing Gear & Accessories
SUP Fishing Rod Holders
Rod holders will make your life easier while SUP fishing. You need your deck organized and clear of line and hooks. If you have many fishing rods, get several rod holders for convenience.
SUP Fishing Cooler
A good fishing experience will make you thirsty and hungry. Have enough water with you and maybe your favorite beverages so you can have a sip once in a while. Moreover, a SUP cooler doubles as a seat for when you get tired and saves you the agony of having to stand all day. To securely attach your cooler to the board and prevent it from falling into the water, get rubber stabilizers.
Stabilizers
Unless you plan to spend half the time in the water (involuntarily), you may need stabilizers. Even though you are the greatest of all time at balancing, stabilizers will come in handy. A paddleboard on water is unstable, add to that the casting and movement and the weight of your gear—now you see why you can't trust yourself to remain on the board?
Waterproof Case
Mount a small waterproof case on your board to store items like money, cell phone, keys, and anything else that you may want to keep dry.
Detachable Seat
However strong you are, you will want to sit down at some point. There is a wide range of detachable seats for you choose from. Some come with drink holders and others are more streamlined to save space.
GPS
A GPS is not entirely necessary. However, if you need to mark a spot so you can come back to clean up, you will need it.
SUP Fishing Light
Some people prefer to fish very early in the morning or very late in the evening when there is barely any light. A flashlight is not the best option here—unless you have three or more hands. Get a SUP board light that adheres to your board. Besides being a source of light, it will make you visible to other vessels.
Anchor
Drifting too much when fishing in your favorite hotspot can be a nuisance. An anchor will help you drift less. Your board is way lighter than a boat, even with you on it. A small anchor will do the trick.
ALSO READ: The 20 Best Paddle Board Fishing Accessories
SUP Fishing Tips
After setting up for SUP fishing, these basic tips will help you have a productive and convenient first day.
Get a License
You need a license to fish almost everywhere. Other places have very strict rules and you will even have to get a special license for certain kinds of fish. Do a little research and get all the required documents. The fines for unlicensed fishing are usually very steep and they will leave your bank account seriously dented.
Observe The Elements
The wind, current and tides will greatly influence your fishing experience because paddleboards are very light. Before you set out consider the water conditions. You will have to work against at least one element as you paddle to or from your fishing hotspot.
Only Bring What You Need
A paddleboard has limited space and it can only hold so much weight. It is okay to be excited for day one and you may want to bring everything. However, having too much gear on that small vessel will limit you in terms of speed. You will barely get to where you want to go. Also, you may end up losing a lot of gear, some of which may be expensive. Just bring what is outlined above and of course your fishing rod and tackle bag. If you find yourself with very little room to move around, then maybe you brought too much.
Tie Your Gear Down
It is a paddleboard and there is always a chance that you'll capsize. Imagine seeing all your gear floating away, and you staring in horror wondering which one to go after first. It may seem funny now (or in a YouTube video) but it will not be when you are in the situation. Tie everything down. Unfasten them when you get to the fishing spot and tie them again when you are done.
Have A Clear Plan
Know where you are going to fish, how to get there and how to get out. The water is unpredictable and even if you are a water pro, be prepared. If this is your first time SUP fishing, make the trip short. A paddleboard is not the same as a boat—as you will come to realize. Use day one to learn and familiarize yourself with a paddleboard.
Converting a SUP board for fishing is very easy. For your first day, the above gear is enough and then you can learn what else you need as you become better at the activity. Make sure you choose the best SUP fishing board according to your preferences and do not be in a hurry. The rest of the gear is easier to choose unless you have special preferences. Take the tips into consideration for both your safety and convenience. Lastly, have fun—and lots of it.
Also read this article with more paddle board fishing tips.
Best Fishing SUP Boards FAQs
Q: Are Paddle Boards Good for Fishing?
A: Yes, paddle boards are great for fishing. They are generally cheaper and more fun to use.
With them, you can access the best fishing spots, inaccessible by bigger boats.
Q: What Is a Fishing SUP Board?
A: A fishing paddle board is a SUP designed for fishing.
Unlike regular all-around boards, fishing SUPs come with lots of mounts for gear. They are also much wider and heavier.
Q: Can You Fish Off a SUP?
A: Yes, you can. Stand up paddle board fishing is becoming a popular activity.
Just make sure you buy the right paddle board, preferably one designed for fishing.
Q: Where Do You Put Your Paddle When Fishing?
A: Most fishing paddle boards will come with a paddle holder for your paddle.
Alternatively, buy paddle clips and attach them to your SUP.
YOU MAY ALSO LIKE: Can you mount a fish finder on a paddle board?
Conclusion
Stand up paddle board fishing is fun and you don't want to be left behind. Just get the right SUP and experience it for yourself.
The Sea Eagle FishSUP is ideal for every kind of paddler. It has different packages depending on preferences. The basic package would be nice if you are on a budget or for the SUP fishing newbies.
The paddle board has unmatched stability. Additionally, it comes with a paddle pocket, motor mount, a built-in fish ruler, and many exciting features.
I would recommend the Blackfin XL if you don't have much money to spend on a fishing SUP.
It may not be as expensive as the others but it comes with D-rings and action mounts for your gear. It is compatible with a number of fishing accessories. It is also super stable.
Do you have any questions about fishing paddle boards? Feel free to ask us below.
Happy SUP fishing!