If you've been taking your kids paddle boarding with you, at some point they will tell you that they want to paddle too. It's great seeing your children interested in an activity you love. Getting them their own paddle board is a nice way to encourage this interest.
Even though you are buying a kids paddle board, it is still important that you get it right. You want your children to be comfortable and have fun in the water.
As a family of paddlers ourselves, we like to help other families get out there and enjoy all that SUP has to offer. So here, we recommend our 8 best stand up paddle boards for kids. Just as important, we include a guide to help you choose a SUP that perfectly suits your child's needs.
The Bluefin Cruise Jr is our best overall paddle board for children in 2022.
Best Paddleboard for Children
With solid construction, a five-year warranty, and even a kayak conversion kit included – the Bluefin in Cruise Jr is the best paddleboard for children. It includes everything a young paddler needs to get paddling right away, and the 264lb capacity means there's room to grow with it.
The Bluefin stand up paddle board features remarkable construction and comes with a five-year warranty. You can expect your child to be using it for years. We love that the manufacturer put a lot of effort into the construction.
The complete Cruise Jr paddleboard package includes a kayak conversion kit. You get everything that the young paddler needs to go paddling right away. And when they get tired of standing, they can convert the SUP into a kayak. Amazing!
There's a lot to say about the Bluefin Cruise Jr because it really is a fantastic board. We'll discuss it more below.
If you're looking for something different, keep reading. We have something for every child.
Best Budget Kids Paddleboard
Great if you're on a budget and want something affordable to get your kid started with paddleboarding, the Thurso Prodigy is a well-made cheap kids paddleboard. Despite the low price, the quality is still impressive.
Why would you spend a lot of money on a SUP that your kid will outgrow? This is a valid question. If that's your concern, you might love the Thurso Prodigy.
The kids paddle board comes in two colors and a gorgeous design that appeals to children.
Although the Prodigy is not expensive, its quality is impressive. Thurso is a reputable company in the SUP world and paddlers love their boards. They made this kids board using the same materials and technology they use for their adult boards.
The manufacturer offers a two-year warranty.
The Prodigy paddle board package comes with all the necessary accessories including a lightweight carbon paddle.
Best for Older Kids
A bigger board that's still suited to younger paddlers, the Nixy Huntington is great for teens and older kids. At just 18.75lbs it's easy enough for kids to carry around, and boasts the features you'd find on an adult board – such as mounting brackets and D-rings.
If you have an older child, a bigger paddle board may be more suited. You want one that they can grow with and use even when they're adults.
The Nixy Huntington performs really well and would be great for adventurous teens. It folds into a smaller package than most full-sized boards and weighs only 18.75 pounds. Older kids won't have a problem carrying it around.
This SUP board comes with almost all the features you'd find in any other adult board. It has bungee storage, extra D-rings, and even mounting brackets. Your child can accompany you on your fishing trips and other adventurous SUP activities.
Kids Paddle Board Comparison Table
8 Best Stand Up Paddle Boards for Kids and Teenagers
1. Bluefin Cruise Jr. 8'
Why do we love the Bluefin Cruise Jr?
Bluefin paddle boards are some of the most rigid inflatables you can find. We find it impressive that the company put that same effort into making this kids paddle board.
The Cruise Jr is made using 1000D exo surface laminate PVC and pro-weave dropstitch. On top of that, it has heat-welded double-side rails.
You know kids can be adventurous and a little rough sometimes. With the Cruise Jr, you don't have to worry about dents if they drop the SUP or bump into anything. Like every other Bluefin board, it is solid and comes with a five-year warranty.
It's amazing that the manufacturer included a kick pad feature. It allows a paddler to make quick sharp turns.
The paddle board also comes with a diamond-croco deck pad, a fixed GoPro mount, bungee storage, and D-rings. They can carry their own accessories and essentials on this SUP.
Another reason why we think you should consider this paddleboard for your child is the iSUP package. It includes a manual pump, backpack, ankle leash, paddle, and a kayak conversion kit.
The adjustable paddle is made of fiberglass. It is lighter than aluminum and perfect for young paddlers. The kayak conversion kit includes a kayak seat and kayak paddle blade.
In terms of performance, the Cruise is stable and maneuverable. You can be sure that your kid won't be struggling to control it when paddleboarding. It is only 8 feet long and 29 inches wide.
This would be a good option for any parent looking for a durable, stable, and easy-to-handle board for kids.
Check Price of the Bluefin Cruise Jr
2. Thurso Prodigy 7'6 – Best Budget Children's Paddle Board
A great kids SUP doesn't have to be expensive. The Thurso Surf Prodigy is affordable but very well made.
The manufacturer applied the standards they use for their regular paddle boards, and they offer a two-year warranty.
You can get the Prodigy in two colors–magenta and azure–and they are both gorgeous. Other than the appearance, we think kids will love having a bungee cord attached to D-rings at the front. They can bring their own dry bag/deck bag on family SUP trips.
The inflatable stand up paddle board also features a three-fin system, all removable, and two grab handles. The fins are super easy to set up, a child can do it.
The iSUP package includes a carbon shaft paddle, backpack, and leash. Thurso Surf didn't include a hand pump because they figured parents already own one for their adult boards.
We must say the paddle is really nice. Carbon is the lightest and most efficient material for making SUP paddles. It is also the most expensive so you're getting a good deal.
The paddle board only weighs 19 pounds and can support up to 165 pounds. It is recommended for children aged five and up.
If you are looking for an affordable but high-quality children's paddle board, you should check the Prodigy out.
Check Price of the Thurso Prodigy
3. Honu Airlie 8'6 Kids All-rounder
The Honu Airlie is extremely lightweight, weighing only 11.9 pounds. It is the lightest model here and it is perfect for really young paddlers.
But don't let that fool you.
Despite being so light, the Airlie is built using X-Woven and fused dropstitch material. Believe us when we tell you that it can take a beating. It comes with a two-year manufacturer's warranty and an extra two years of free repairs.
The 8'6 length and large center fin offer great tracking in the water. It also helps that the stand up paddleboard is not too wide so it's not sluggish. Kids will find it easy to control too.
The Honu Airlie comes with a travel backpack, manual pump, ankle leash, and a repair kit. Unfortunately, the SUP package doesn't include a paddle. They, however, give you a 20% discount when you buy it with the SUP board.
The paddle board features a single-fin system.
Small children will appreciate the Airlie because it is light and easy to carry. It also performs well in most conditions and offers an amazing experience.
Check Price of the Honu Airlie
4. Freein Youth SUP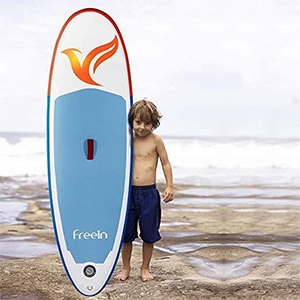 Freein SUP are known for offering affordable inflatable SUP packages. Although their boards are cheap, they are built to last.
The Freein Youth kids paddle board is built using dual-layer construction and additional coatings on the side and deck. This impressive PVC construction makes it durable but still lightweight. It weighs 20.9 pounds and has a maximum weight capacity of 176 pounds.
We love that this paddleboard comes with a two-year warranty. This is not common with cheap paddleboards; so you know it is a quality SUP.
The Freein Youth board is 7'8 long, 6" thick, and 28" wide with a rounded nose. It is super stable. It would be great for building a young paddler's confidence in the water. It comes with one removable center fin to help with performance.
In addition to the inflatable SUP, you will get a paddle, travel backpack, repair kit, hand pump, and an electric pump adapter. The aluminum paddle is expected because it is a cheap package. A leash is not included.
If your budget is really tight but you still want a stable and well-made SUP for your child, you should consider the Freein.
Check Price of the Freein kids
5. Nixy Huntington Compact – Best Youth Paddle Board
The Nixy Huntington is designed for adults who like to travel with their SUPs but it makes a fantastic kid SUP board.
Older children will love having this inflatable SUP, especially given the features it offers. It comes with two bungee storage areas, at the front and back. The board also has action mounts and additional D-rings.
They can bring their own gear and accessories, including fishing rod holders. There won't be a reason to leave them behind when you go SUP fishing or camping.
The Huntington Compact has a large non-slip deck pad. It keeps the paddler comfortable and prevents them from slipping and losing balance. Wet paddle boards can be slippery.
It also comes with two removable fins.
We think the iSUP package is nice. It includes a paddle, backpack, repair kit, hand pump, and leash. The carbon hybrid paddle is lighter than aluminum and fiberglass paddles. It is also adjustable from 70" to 86". The backpack has wheels–great for traveling.
The Huntington Compact is lighter than most paddle boards of the same size, weighing only 18.75 pounds. This is one of the reasons why it is such a good kids board. Youth paddlers won't have a problem carrying it on their own, even when it is fully inflated.
While it may be lightweight, the Huntington is definitely not a cheaply made SUP board. It is built using dual-layer PVC material and it has reinforced rails. The rigidity is unmatched and it feels like a solid paddle board.
We recommend the Huntington Compact for older kids because they can continue to use it even when they're adults.
Check Price of the Nixy Huntington Compact
6. iRocker Nautical 10'6''
This is one of the best budget inflatable paddle boards for kids and adults alike.
The iRocker Nautical is a performance kids board. It tracks well and is fast. Older kids can use this SUP to paddle flatwater and slow-moving rivers as well as ocean paddling.
If you have a teen who is passionate about paddleboarding, this would be great for them.
iRocker is a well-known brand and their paddleboards are made to last. So it's no surprise that the Nautical is built using dual-layer military-grade PVC. It is sturdy and has a weight limit of 240 pounds, making it a good option for heavier kids.
This is a paddle board that your child can still use even as an adult. It comes with bungee storage at the front and back, D-rings, and an action mount. We also love that the SUP board has safety handles.
The Nautical features a three-fin system and all fins are removable. While removable fins can easily get lost, the SUP folds compact without them and this makes transport and storage easier.
You'll be happy to know that the iRocker Nautical comes with everything your kid needs to start paddling. You only have to buy a PFD. The package includes a fiberglass paddle, backpack, leash, repair kit, and dual-action hand pump.
If your young paddler likes to travel with their SUP, the backpack has a wheel option. You can buy the Nautical wheels from iRocker.
Check Price of the iRocker Nautical
7. Gili Air 10'6'' Inflatable SUP
The Gili Air is not exactly a kids stand up paddle board. Like the Nautical, it is an adult paddle board that would be perfect for older children as well.
This inflatable stand up paddle board is only 10'6 long and 31 inches wide. The size makes it stable, fast, and easy to maneuver for kids. It has a weight capacity of 280 pounds and can hold a heavy kid or a child and a smaller adult.
The Air comes in beautiful colors that your child might like: blue, green, coral, teal, and camo.
Gili Sports is yet another company known for making quality SUPs. This one is built, using military-grade PVC and comes with a two-year warranty. It is a really tough paddle board that doesn't get easily dented.
Your junior paddler can continue using the Gili Air even as they get older. It has features that will allow them to participate in some more advanced SUP activities. It comes with three action mounts, bungee storage, and D-rings for attaching gear and accessories.
They can bring fishing rod holders, an action camera, enough gear for short touring trips, and much more.
The SUP package includes an aluminum paddle, backpack, leash, and a dual-stage manual pump. The aluminum paddle is not that heavy–it even floats.
One awesome thing about buying a Gili paddleboard is that a percentage of each sale goes to ocean charities. So your kid gets a good SUP board and you help save the world's oceans!
8. Nixy Newport 10'6
Lastly, we have the Nixy Newport youth paddle board. It is another adult-sized SUP that would be great for older or heavier kids.
The Newport is long and wide at 33 inches. It is exceptionally stable and your kid won't find it wobbly or tippy regardless of their size. This paddleboard will give them the confidence they need to pursue their interest in paddle boarding.
Remember: anyone can paddleboard, regardless of their skill level and body size. They just need the right board.
The Newport is made using dual-layer PVC material and has reinforced carbon rails. It is very rigid and won't sag at all. It has a weight limit of 300 pounds.
This would also be a nice board for adventurous kids with advanced SUP skills. It comes with five action mounts, bungee storage, and extra D-rings. These features, plus the high weight capacity, make the Newport ideal for almost any SUP activity.
It can be a SUP for camping, fishing, yoga, and relaxed cruising. The paddle board can even hold multiple kids–the more the merrier, right?
The Newport package includes a carbon hybrid paddle, wheeled backpack, triple-action hand pump, and an ankle leash. We love the premium quality accessories because you won't have to upgrade them.
Check Price of the Nixy Newport
Buying Guide: How to Choose a Children's SUP
You would think that buying a kids paddle board is an easy task. But it is not just any other cheap toy and safety in the water is important.
So here is all you need to know to make an informed decision.
What Is the Difference Between Kid and Adult Paddle Boards?
Kids boards and adult stand up paddle boards are similar in many ways.
The main difference is probably the size. Paddle boards designed for kids are smaller. A shorter and narrower SUP board is easier for a child to control.
Children's boards are also thinner. You'll notice that most adult boards, more so inflatables, are 6" thick. Kids boards, on the other hand, are about 4" to 5" thick.
You can also say that kids paddle boards are cheaper although this is not always the case.
Some boards made for kids can have bright colors and fun designs–especially those made for smaller children.
Lastly, kids SUP boards don't have as many features as adult boards. A standard regular SUP will have D-rings, bungee storage, and at least one action mount.
Many children's SUPs only have a D-ring or two for a leash and towing. But some, like the Thurso Prodigy, have one bungee cord storage area.
Inflatable Vs Hard Paddle Boards for Children
Should you buy an inflatable or hard paddle board for your kid?
We highly recommend inflatable paddle boards when it comes to kids.
You expect children to play around on their paddle board. They are also learning how to SUP. This means a lot of falling and, most likely, getting hit by the board. Blowup boards have a softer surface compared to a solid SUP. So the children won't get hurt.
Kids can also be rough in how they handle a paddle board. Compared to hard SUPs, inflatables are much more durable. They bounce off obstacles instead of getting dented.
Another reason is that inflatable boards are generally cheaper than hard ones. You don't want to spend a crazy amount on a board that your child will soon outgrow or dent.
A Dedicated Children's SUP or an Adult SUP That Works for Kids?
Some of the kids paddle boards reviewed above are designed specifically for children. The rest are adult boards that work for kids. So which is the better option for your child?
For really young children and pre-teens, a dedicated kids paddle board makes more sense. They can easily carry it around and handle it on the water.
Older teens would be better off with adult boards that work for kids, especially if they are bigger and/or taller. These boards have a higher weight limit and they can continue to use them even as they grow into young adults.
If you're still not sure, maybe the benefits of each SUP type will help you make up your mind.
Benefits of a Dedicated Children's SUP
Kids paddleboards don't have the many gear attachments–like bungee cords, accessory mounts–that you find on regular boards. Although this limits the amount of stuff they can bring, it also means that they won't get their little feet caught up or trip on something.
Children's boards can be cheaper. Many parents don't see the point of buying an expensive SUP because the kid could outgrow it or even lose interest in paddleboarding.
Lastly, a kids board is smaller. Junior paddlers won't have a problem carrying it, inflating, and controlling it in the water. It makes learning easier and more fun.
Benefits of an Adult SUP That Works for Kids
An adult board will typically have storage and attachment options. This allows the paddler to bring gear and accessories for different SUP activities.
Adult paddle boards perform better in almost any water condition.
Regular SUPs are bigger and have a higher weight capacity. Anyone in the family can use the board and some of them can hold multiple people. You can even have just one SUP for the whole family.
The biggest benefit is that kids will not outgrow an adult-sized paddle board. So although it costs more than a children's SUP, you only have to buy it once.
What to Consider When Buying a Paddle Board for Kids
The next step is narrowing down your options to one perfect board. Here is what you should look at.
1. Affordability
Your budget will greatly influence your decision when buying a kids paddle board. Most of the boards reviewed here are affordable, but of good quality.
Buying an expensive SUP for a kid doesn't make a lot of sense because they will outgrow it.
Even though you get them an adult-sized board, they may want to specialize once they become advanced paddlers. When that happens, they'll need expensive performance boards.
2. Stability
Stability is a very important factor, especially when it comes to kids. A stable board makes them comfortable and boosts their confidence, making learning easier.
Wider boards are more stable. For younger kids, anything from 28 inches is ideal. If your child is older and/or on the bigger side, get a SUP that is at least 31 inches wide.
You should also check the deck pad. A grippy surface promotes balance by preventing the paddler from slipping.
3. Weight
A heavy paddle board will be hard for a child to carry around on their own. On the other hand, heavy boards don't easily get tossed around in rough conditions.
But since it is unlikely that a child will be paddling in rough conditions, go for lighter boards.
4. Fin Setup
For a kids SUP board, the less complicated the setup, the better. You want permanently attached fins because they can't get lost.
If they are removable fins, you should make sure they are snap-in fins that don't need tools to attach or have small parts that could get lost.
5. Child's Age
The age of your kid can help you determine what stand up paddleboard is right for them. That is, do they need a dedicated child's board or an adult board they can use.
We've discussed this above. Dedicated kids boards are more suited for younger children. Older kids can use a smaller adult paddle board.
6. Durability
You can't trust kids not to be rough when handling a paddleboard. They're still learning and you can expect the board to get a beating. This is why we recommend inflatable paddleboards because they can take it.
But not all inflatable SUPs are made to last.
Make sure you get one that is built using multiple PVC layer construction. It is also advisable that you buy reputable brands and check the warranty terms.
Important Safety Tips for Youth Paddle Boarders
Safety first, always.
Teach the kids while they are still young and ensure they follow these safety precautions.
a. Always Wear a PFD
A PFD is designed to keep a swimmer afloat.
Buy an appropriate PFD for your child–not one meant for adults. Make sure they put it on properly when they go paddle boarding.
b. Wear a Leash
If they fall into the water, a leash will keep them attached to the paddle board. They won't have a problem getting back on the SUP.
Make it a rule for everyone in the family to wear their leash before getting on the water.
c. Bring Enough Drinking Water and Snacks
It is impossible to have fun when you're hungry and thirsty. Bring clean drinking water and snacks for your paddle boarding trip with kids.
Buy a SUP cooler to keep the refreshments cool.
d. Don't Forget Your Sunscreen!
You should never forget sunscreen when paddleboarding with kids. Remember to keep reapplying whenever they jump in for a swim.
Kids Paddle Board FAQs
Q: What Age Can You Start Paddle Boarding?
A: Kids as young as six years can start paddle boarding, sometimes even five. If they feel ready and they're asking for their own SUP gear, why not?
Help them get started slowly, with the right paddle board and paddle.
They may not be able to do a lot of paddling at first, but it's fun and it's a great workout. Let them enjoy.
Q: Is Paddle Boarding Difficult?
A: No. People of all ages, sizes, and skill levels can paddle board. It is easy to learn and it won't be long before you become a pro.
Final Thoughts
Hopefully, you now have all the information you need to buy the best paddle board for your kid.
The Bluefin Cruise Jr is our winner for 2022. We love the excellent construction which is backed by a five-year warranty. The iSUP package includes everything your junior paddler needs to start paddling. It also comes with a kayak conversion kit. 
The Thurso Prodigy is our best budget option. Despite being low-priced, it is well-made and comes with a two-year warranty. Its package includes premium accessories too. We especially love the lightweight carbon paddle.
The Nixy Huntington youth paddle board is a great option for older and/or bigger kids. It is stable and features sturdy construction. Because of its size, they will not outgrow it.
Do you have any questions about kids paddle boards? Feel free to ask us below.
Happy paddling!