Stand up paddle boarding is generally considered safe. But it is a water sport and things can still go wrong. For us here, safety is our top priority, and it should be for every paddler.
One way to ensure that you are prepared for emergency situations is to have a PFD on at all times. (So it is great that you are looking up SUP PFDs). Since this is one pf those SUP accessories that could save your life, you want to make sure you choose wisely.
Life jackets come in many shapes and sizes. You can easily get confused by the different available options. You want a PFD that is comfortable, well-made, and one that will keep you afloat and increase your chances of survival.
To help you with the decision, we recommend our 12 best PFDs. We also discuss everything there is to know about SUP life jackets so you can choose the right stand up paddle PFD for you.
For 2021, the Onyx M-16 is our top pick for the best PFD for stand up paddle boarding. This is after extensively researching and testing different personal flotation devices.
The belt PFD was designed for paddle boarders with two things in mind: safety and comfort. We love the low-profile design which gives you all the freedom of movement you need. You don't have to keep adjusting it and you can easily forget that you have it on.
The Onyx M-16 is USCG-approved. This means that it meets the U.S Coast Guard carriage requirements and it is reliable. It comes in one universal size and will fit any paddler over 80 pounds and above 16 years.
Any paddle boarder would love the Onyx M-16 personal flotation device. But if you are looking for something different, keep reading for more SUP PFD reviews.
Best Budget Life Vest – Onyx MoveVent Dynamic
We have talked about how important it is to have a PFD for SUP because it could save your life. Going out without one is not an option.
Some of these personal floatation devices aren't cheap and not everyone can afford them.
But you can still get a good life vest at a friendly price – the MoveVent Dynamic is a great budget option.
It's a Coast Guard-approved Type III life jacket made with soft, lightweight foam and durable nylon fabric.
It is comfortable, even in hot weather, thanks to the mesh ventilation panels at the front and back.
The MoveVent Dynamic is unisex and is available in three sizes to fit all body types.
Best SUP Life Vest for Women – Astral Layla
If you are a woman and the unisex life jackets don't fit the way you'd like, you may want to try a life vest designed for women.
The Astral Layla has sculpted bust cups and a multi-panel hinge, features that make it conform to the female figure perfectly.
It doesn't feel too tight around the chest area and it also won't keep riding up.
You can use it for SUP touring, racing, whitewater SUP, and anything else that involves SUP.
The life vest is a USCG-approved Type III.
ALSO READ: The Best Paddle Board Coolers For Cold Snacks On A Hot Day
Stand Up Paddle PFDs Comparison Table
The listed products on this page are some of the most used and best liked SUP PFDs in the stand up paddle boarding community. Jump straight to the best hip belt pfds, suspender pfds and vest pfds.
The SUP Belt PFD (Type V)
The belt style PFD is great for experienced stand up paddle boarders. You have full range of motion with this PFD secured around your waist. It wears like a fanny-pack and some models even include storage. The Belt pack is Co2 activated. Depending on your preference you can choose only the jerk chord activation or have the hydrostatic activation respond when submerged under water. Once activated a wearable and inflatable PFD is ejected from the belt pouch allowing for you to secure it around your neck.
There is more responsibility in keeping this device operational. You must make sure your inflatable bladder doesn't get torn or punctured over time and always check that your Co2 cartridge is full. There are also options for manual inflation through a breathing tube, but bottom line is, if your equipment doesn't work when you need it to, it's on you and nobody else. So be prepared to check your gear.
A slight downfall for a waist pfd for SUP is its visibility. Though they are comfortably compact and lightweight, at times of low visibility the belt PFD itself is a small object for reflection. However, they are amazing Stand up paddle board PFD's for day time use.
a. Onyx M-16 Belt Pack PFD
The very popular M-16 inflatable belt PFD made by Onyx is an ideal candidate for paddle boarders. Typically for adults 16 and older, the M-16 is a U.S. Coast Guard Approved Type V Life Jacket. This universal 15 oz. belt is great for men and women, provides 17 lbs. of buoyancy, and comfortably fits around the waist. An adjustable strap makes it easy to take on and off and the lanyard pull chord is bright yellow for instant visibility and action in case of an emergency.
The Co2 canister is less than 4 ounces and is concealed out of sight when wearing the M-16. There isn't a pressure gauge visible and there isn't any pockets for storage so you will have to test the Co2 after a few months or update them regularly.
The M-16 is a basic affordable model from Onyx and comes in grey with a gridded web design or a Realtree camo pattern. It is made to last with the 200D nylon Oxford cover which reduce the risk of major tears. It has one D-ring attachment on the belt for connecting lines as well as a manual inflation option. The Onyx M-16 remains a simple and affordable belt. Though limited in options for personal storage, the M-16 belt makes for a great safety accessory.
Features:
Extremely low profile
1" Buckle and body belt
D-ring attachment for paddle board accessories
Approved for ages 16 years of age and older; and over 80 lbs.
Type V PFD with Type III performance
Fits 30"-52" chest; up to 52" waist
Min. 17 lbs. buoyancy
No visible pressure gauge
Limited storage space
b. Onyx M-24 Manual SUP Belt PFD
The M-24 by Onyx is a universal sized Type V belt PFD known for its sleek design and the perks for storage and visibility it offers. This belt PFD for SUP is conveniently compact for maximum maneuverability and light weight.
The inner neoprene makes for a comfortable ride with the movement of your body, and eliminates any dry rubbing or chafing on the hips. The outer material is made of a durable 200d nylon to withstand any major cuts or tears.
The sleek black color surrounded with reflective trim gives this PFD belt a sporty look, and slightly increases the user's visibility around dusk and dawn. The Co2 cartridge is easily replaceable and the option of a manual inflation tube is provided. The highly visible red handle of the pull chord only adds a sleek appeal to the M-24. It's a great Belt PFD for all boating activities and SUP enthusiasts.
Features:
Easily adjustable
D-ring attachment for accessories
Manually inflatable
Approved for ages 16 years of age and older; and over 80 lbs.
Type V with Type III performance
Fits 30"-52" chest; 24″ – 52" waist
Min. 22.5 lbs. buoyancy
Zippered pocket for convenient storage
No visible pressure gauge
c. MTI Adventurewear Fluid 2.0 Belt Pack
A five star belt pack for the ultimate adventurer. This inflatable belt PFD is a top rated choice by many boaters and kayakers. The Fluid made by MTI Adventurewear has the choice of black, blue and red designs. The user maintains a breathable comfort with the 3D mesh back panel.
The plastic window viewer gives a trendy look at the Halkey Robert automatic inflation system, while providing the functioning or non-functioning status of the Co2 component. Also included is a safety whistle. A two-in-one check off the safety list of required items for U.S paddle boarders. There is zipper storage for small belongings along with a D-ring for attaching a leash or other waterproof accessories.
Adventurewear knows what goes in to creating a safe and dependable PFD for the paddling community. The ratings and online reviews speak for themselves.
Features:
Comfortable design with mesh back panel is perfect for SUP paddling
Premium Halkey Robert inflation mechanism with window indicator
USCG Type III
Approved for ages 16 years of age and older; and over 80 lbs.
Fits 30"-52"
Min. 26.2 lbs. buoyancy
D-ring attachment for accessories
Whistle included
d. Stearns 16 Gram Manual Belt Pack
This may be one of the lightest PFD's on the market weighing in at 16 grams. The vibrant color option for the Stearns 16 gram model includes baby blue, bright red and a neon yellow. A great belt for being visible to other boaters while on your stand up paddle board.
Some have said that it feels just like another piece of clothing when worn around the waist, and the universal size makes it a reliable sup pfd belt for those long days on the water. The yellow pull chord dangles in the front right for easy access, and a plastic window view is also located on the front for visual system activation checks.
This is a light and a reliable adult SUP PFD's and will support individuals over 80 Ibs. The rearming kit is easy to install. All in all, this is a handy belt pack and it provides reliable floatation. It has a snug fit and is easily adjustable. It can also be worn backwards for access attachment to your paddle board leash. A quality belt pack and a stylish one at that.
Features:
US Coast Guard-approved Type V PFD
Low-profile and compact belt design
Type III performance once inflated
Approved for ages 16 years of age and older over 80 lbs. with chest size 30-52 inches
Arming status window makes it easy to check that your inflator is ready
Min. 22.5 lbs. buoyancy
Zippered accessory pocket for easy access to gear
Triangular accessory hook with a spring clip for easy attachment of extra gear
Suspender Harness PFD (Type V)
The Suspender style PFD is also a lightweight alternative to the Type II and III lifejackets. This type, like the belt PFD, has an automatic Co2 inflation system, but wears around the neck and chest. The air bladder is packed tightly into what is typically nylon fabric and is secured into a pouch by a secure trim of velcro. A pull chord hangs below the bottom of vest pouch attached to the straps.
A great lightweight choice PFD for stand up paddling because it allows for flexible movement and excellent breathing for your upper torso. The buckle secures in the front abdominal region for reduced restriction around the waist area. An extremely comfortable PFD that gives paddle boarders plenty of maneuverability, but not as much free range as the belt PFD offers paddle boarders.
Aside from this, you don't have a belt pack that bunches up into your stomach if you prefer to sit often during your paddle experience. The nylon straps on the suspender are barely felt around the body and you can function with ease in either a sitting or standing position.
a. Onyx A/M 24 Automatic Vest
The Onyx AM 24 is a one size fits all Type V PFD. A commonly used automatic inflatable vest used by paddle boarders and kayakers. The harness is easy to slip in and out of, and the belt buckle makes for simple adjustment to fit your body type. The stretchable back insert is great for all body types and adds comfort while flexing through your range of motion. The Onyx logo and model is printed boldly in black across the vibrant yellow diagonals for added style to its basic two tone colors.
The square stitched gray color is a nice offset to the front panel and the yellow trim that wraps around the back straps. This jacket provides great breathing room for your chest and back, and if you run out of Co2 cartridges don't worry about a thing. The option to inflate manually is as easy as pulling the jerk chord and inflates in a little over double the time the Co2 canister does. This product was created for versatility and comfort and predominanlty fits tropical themed paddle board rigs. A great vest to be seen in and one that will keep you from sinking.
Features:
U.S. Coast Guard approved Type V life jacket/PFD
Equipped with utility pockets for a spare CO2 cylinder, waterproof camera or other gear
Convertible from automatic/manual to manual only inflation
D-ring attachment for accessories
Approved for ages 16 years of age and older; and over 80 lbs.
Min. 22.5 lbs. buoyancy
Green/red 'ready for use' indicator
b. Mustang Survival Corp M.I.T. 100 Automatic PFD
The Mustang Survival Corp is a sleek performance PFD and may be one of the leaders in PFD style and comfort. The M.I.T by Mustang Survival is a trendy paddle board PFD with a mesh front cover with a 500 Denier corduroy outer shell over the double sides of inflatable packing. The simple strap variation provides maximum maneuverability and a lightweight fit around the body.
What makes the Mustang Survival suspenders harness a popular PFD aside from its reliability and extremely durable material, is the variety the MLT 100 comes in. The color schemes range from black/fluorescent green, black/pink, black/red, camouflage, mossy oak shadow grass blades, and the traditional and highly visible orange/black. All color-coordinated with the bold Mustang printed logo along with the reflecting neck pattern above the shoulder straps.
The certified Mustang Survival Seahorse patch is in the upper left portion of the jacket so other paddlers recognize a high quality and recognized PFD. Many professionals on the water choose Mustang Survival such as maritime law enforcement organizations, charter fishermen, and ship crews. Mostly for their puncture proof material, reliability, and professional appearance.
Features:
Automatic inflation will automatically self-right most wearers within seconds of water entry
USCG Type III Recreational / Type V Commercial
Exclusive Membrane Inflatable Technology inflation cell
Inflator inspection window and easy access flap
Provides 28 lbs. of buoyancy inflated
Fits 30″ – 52″ chest; and over 80 lbs.
5x regular foam pads
Paddle Board Life Vest PFD (Type II &III)
The stand up paddle board life vest style PFD is the most common and most reliable. This is because it doesn't require any manual inflation or rely on a Co2 canister to keep you afloat, because the foam material inside the jacket is what provides the user buoyancy. You float immediately when you fall in and as long as the vest fits properly, you will have no trouble maintaining buoyancy. Most modern day Vest PFD's light in weight, some even feather light. Depending on some models or just old jackets, they may be slightly heavier when wet. Modern vest PFD's omit any possibility for long-term water logging and are made of better material to repel water. Another plus is that the vest PFD makes your body way more visible during hours of limited visibility, depending on how vibrant your vest is and if you have it on.
You have a reasonable amount of movement with your upper and lower body in and out of the water. A good variety of today's models are equipped with pockets for storage and have various fabric flaps to increase breathability. The vest PFD is great for people who don't want to rely on an automatic activation mechanism to keep them afloat. It is the best PFD for river SUP boarding and for charging the waves, and perfect for the laid back paddlers who jump in and out of the water to cool off. Some paddle boarders even like to keep it off of their body and just have it attached or strapped to their paddle board only to adhere to the federal PFD laws and for easy access if they feel that they need it.
a. NRS Ninja PFD
The Ninja made by NRS is a compact and very breathable PFD for a vest model. The Ninja comes in three different colors with select trims. Black/neon trim, Charcoal with neon orange trim, and red with charcoal trim. The Ninja is easily visible when worn and easy to don with its low-profile sleekness.
Most of the foam is targeted toward the bottom waist area of the jacket leaving a harness type of style for the upper body. The straps mimic that of the suspender style and are easily adjustable to fit the shoulders.
The waist buckle on the side keeps is conveniently tucked snug against the foam padding of the Ninja and is adjustable to maintain a secure fit around the waist. A great vest to have if you don't mind a little sun on the shoulders and want full function of your arms when paddling.
Features:
5 lbs. of flotation, low profile, type 3
Floating front panel is a nice fit to warm your hands when it's cold and windy
Side profile entry makes donning easy to slip on
Four side and two shoulder adjustments for a custom fit
Front mesh pocket
b. NRS Vapor PFD
The Vapor PFD crafted by NRS provides a narrow shape toward the upper body of the vest. Tailored for taller individuals with longer torsos, it is however, easily adjustable to any body type. It's offered in four solid colors and trims including gray straps and gray panel flaps.
The colors vary from black/green neon trim, blue/white trim, red/white trim, and yellow/white trim. A very reflective and lightweight foam designed to make a reliable paddle board PFD. The action cut below the shoulder straps allow for wide use and full rotation of the arms, and is a great vest for paddle surfing and rapid river paddling.
There is a durable lash tab on this vest as well for carrying various attachable dive knives. This is a quality jacket for the aquatic adventurer and is reliable for long days on the water.
Features:
Easily adjustable
The soft foam wraps around the body.
The action-cut design frees your arms for unrestricted paddling
Lash tab
Hand pockets for warmth
c. Onyx MoveVent Dynamic SUP Life Vest
This universal vest made by Onyx is named MoveVent for a reason. This vest has state of the art mesh technology installed on this life vest for maximum breathability when in a sitting or standing position.
The MoveVent comes in a light grey/ aqua color trim or a charcoal/ orange trim. This is a specifically designed PFD for Sup and kayak enthusiast and though is considered a unisex life preserver, it caters to the female figure with its wide range of adjustability in the front. It is also equipped with pockets and includes a whistle device attached to the lanyard as well as a lash tab on the front panel, used for securing a dive knife of sorts.
It's sizes are for anyone over 90 Ibs. in weight. Made with 200d Nylon Oxford ripstop material which is great for trekking deep through skinny water ways with over hanging branches. A great choice for both women and men over the suggested weight limit. The soft interior of this vest makes for a plush feel along with the bubble padded back panel for added extra comfort.
Paddle with a piece of mind knowing the reflective tape across the shoulder straps are highly visible when shined upon in the dark. A great innovative vest that is changing the direction of future PFD's.
Features:
Conforms to body and is easily adjustable.
200 denier Nylon ripstop and nylon Oxford.
Innovative vented channels help keep the user cool and comfortable.
Bubble foam on back panel for extra comfort.
SOLAS grade reflective material.
Attached whistle for safety
Extra Small/Small, Medium/Large, Large/XXLarge sizes; and over 90 lbs.
d. Astral Buoyancy YTV Paddle Board Life Jacket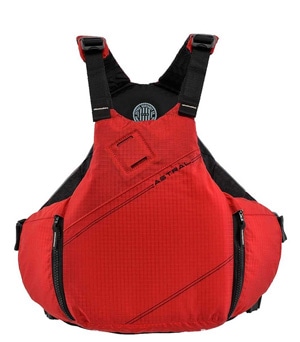 The YTV life jacket made by Astral is a plush style Type V/III certified jacket with square mesh grid of 200 Denier Nylon surrounding the foam padding. There are two zippered pockets located on either side of the front chest where you can heat up your hands when the air gets nippy.
Another unique factor about this vest is that it is a simple pull-over style, so there is zero opening in the front panel for a buckle or zipper. There is however taking the place of the zipper is a lash tab for securing attachments. A great selection is available for the colorful type of individual.
Vibrant and stylish colors such as eggplant/neon lime trim and logos, slate black/neon lime trim, hot coral/baby-blue trim, and cherry creek/black trim. The Torso Lock fit is the perfect option for swimmers who don't want the excess of straps dangling around their body. The Astral Buoyancy YTV is a stylish jacket in a wide variety of flavors. Stitched and designed for a reliable float and universal maximum comfort.
Features:
Ripstop featherlight construction
200 Denier Nylon
Pullover entry
Torso Lock fit platform
2 zippered front pockets and a knife lash tab
US Coast Guard Type III/V approved
Lash tab
e. Stohlquist Edge Life Jacket
The edge, manufactured by Stohlquist is an adequate lifejacket for the person who is the mega carrier of belongings. Having maximum storage on a paddle board PFD is almost mandatory, especially if you will be out the for the whole day. If you need to hold on to sunscreen, car keys, or other various items one takes along, than this is the vest for you.The paddle life vest may as well be a backpack that floats you. It's equipped with an extra large front pocket with a seal colored zipper, and a separate large sized zipper pocket located on the right side.
The Edge comes in three colors with all containing white trims. Black, Blue, and Yellow with the colors of the Stohlquist front design and Square Edge patch in the center. Brightly visible 3MTM reflective trim outlines certain sections of the PFD making for increased visibility during low light hours.
Features:
Ergonomic fit for paddle boarding and kayaking
Adjustable shoulders, 4 straps and front waist buckle closure
Low cut, offset front-zip entry
High visibility 3MTM reflective accents
Expanded front pocket for secure storage and easy accessibility
Vest PFD For Women
The other types of life preservers are mostly unisex models, however the Vest PFD depending on size causes for a tighter fit in the chest area. Usually there is no trouble with adjusting the fit with the straps, but for some it will not produce maximum comfort for the user. Certain styles of women vest PFD's have been design to fit the female figure better than a unisex jacket would. Many of women styles can be found online or at your local Sup or water sports shop.
a. NRS Women's siren pfd
This low profile Type III life vest is the perfect design for the female figure. With adjustable shoulder and side straps, the NRS Siren holds up to its reputation as a female SUP PFD. The blueberry blue color with a teal inlay is offset by the neon lime colored zipper pockets on both sides of the front foam panel. If you're in to warmer color schemes, the other option is a charcoal base with pink trim.
Another great feature is the loop on the backside of the neck panel, making for an easy hang for drying. Plenty of chest room is available on the Siren making for an easily adjustable vest with a wide base and slender top. It is sure to float the average female with 16.5 Ibs. of buoyancy. And even though this Women's SUP PFD is hot in style, the mesh inlay along the spine allow for increased airflow to cool you down, and avoid the annoying neoprene stick.
Included is a lash tab for a dive knife accessory and the NRS logo is written in script format below the top left shoulder strap. A wonderful women's vest for flexibility and comfort.
Features:
5 lbs of flotation, low profile, Type 3
A comfortable, low-profile life jacket that fits even better than it looks
Six-panel design and six adjustment points effortlessly wrap the body
Anatomically sculpted front foam panels provide more comfort
Strategically placed mesh panels along the spine increase airflow
b. Astral Layla Women's Pfd
The Layla Type III Women's SUP PFD is one of the most universal Life vests to date. The stylish colors come in a variety of Eggplant, Glacier Blue, and Rosa Red. The neon colored Astral printed logo is labeled across the right breast and the paisley inlay is a nice touch to the stylish looks of this vest.
What is unique about this PFD is that the chest region is tailored to the female figure with the installment of a multi-panel hinge and sculpted bust cups. This allows for maximum chest room and easy adjustment for finding the perfect fit. A great vest for white water kayaking, as well as a handy paddle board PFD.
Included are two pockets. One side is a self-interlocking zipper pocket located on the right side and a middle divider front pocket with a buckle. with a carabiner loop. A quick release waist strap holds pressure of the jacket to the body and the three adjustable side straps keep it in place for a snug fit. It holds 16.3 Ibs. of buoyancy and weighs 1.8 Ibs.
Features:
¾ Inch Zipper front entry
Organic Kapok, PVC-free Gaia & PE foam
200 x 400 Denier Ripstop Nylon Shell Fabric
200 D light weight nylon liner fabric
Intended for whitewater, sea, tour, Stand up Paddleboarding
c. Stohlquist Women's Escape Pfd
The Escape women's PFD by Stohlquist is bright red or light blue, low profile jacket. It is designed to secure tightly to a women's figure and is easily adjustable with shoulder straps and side adjusters. A lower side pocket is large enough to fit the waterproof essentials and the front zipper and bottom buckle make this life preserver easy to don and remove.
The inner chest foam offers the perfect shape to assist in upper body comfort. Size and bust measurements are available for the Escape and are as follows: XS/SM 28" – 34" MD/LG 34" – 40" PLUS 40″ – 46." A well-rounded vest for all female figures and comes in two stylish colors. Red and sail blue. Very vibrant and easy to spot. The Stohlquist Escape PFD is a high-quality material vest. Made for the active user and is capable of long term use if well maintained.
Features:
Soft, low-profile buoyancy foam, shaped specifically for a woman's figure
Full adjustability at sides and shoulders for proper placement on the torso
Efficient front-pull adjusters at sides provide extra security against the PFD riding up
Low profile designed foam gives a sleek and contouring fit
Padded, adjustable shoulder straps
200 denier Nylon fabric
PFD Vests For Children
a. Stohlquist Youth Fit PFD Life Jacket
Having your child don a lifejacket is always a good idea, especially if you're around crowds or not around to keep a close eye. The Escape Youth Jacket made by Stohlquist is a coastguard approved Type III PFD and an extremely soft jacket with a front zipper and bottom buckle.
The bottom belt and buckle is sewn into the vest itself and voids the typical dangling straps that have the possibility of becoming caught or tangled. A highly visible red and yellow colors are a choice and make the youth user stand out when in the water. Always a good thing for parents for the child to be visible for a quick and easy head count while along the shoreline or from your paddle craft.
The wide back space allows for breathable and comfortable skin and the wider upper side gaps make for easy and full rotation of the arms. A reflective stripe is stitched in across the upper right shoulder and below is the Stohlquist printed logo with a splash design across the front chest area. One side has a zipper pocket is installed with a stitched slit opening for pocket expansion to avoid the tearing of fabric. All and all this is a sufficient vest for youth SUP enthusiast.
Features:
Super-Soft buoyancy foam inside both front and back for body hugging comfort
Full Adjustability at sides and shoulders
Low profile foam gives a sleek and contouring fit
Fits youth 50-90 lbs or 75-125 lbs
b. Onyx Youth Paddle Sports Life Jacket
The youth paddle sports life jacket icy Onyx is a simply made and efficient children's life jacket. It is a Type III Coastguard approved jacket Its light weight and consist of two simple foam front and back pads connected by two webbed mesh nets that allow for extra breathing comfort to the body.
A simple zipper and bottom buckle are all you need to be secured with the Onyx Youth Paddle Sports jacket, and a front side pocket can easily hold a whistle or other small items. The Onyx logo patch is on the upper center back pad as well as on the lower left front foam pad.
The red 200 denier nylon Oxford material is vibrant for ultimate visibility and is durable to withstand the elements. There are six adjustable straps that are attached to the shoulders, sides and waist. It provides a snug fit in and outside of the water.
Features:
U.S. Coast Guard Approved Type III Life Jacket / PFD
Large arm holes allow freedom to paddle
Lightweight and compact design
Front zipper and lower buckle provides additional security
Six adjustment straps for a snug fit
Expandable zippered pocket with mesh drainage
Fits youth 50-90 lbs
How to Choose A SUP Personal Flotation Device (PFD)
YOU MAY ALSO LIKE: The Best Paddle Board Pumps For Fast And Easy SUP Inflation
SUP PFD Laws
With the growth of anything, rules are sure to follow and in 2008 some changes were made by U.S federal law. Changes that all paddle boarders should be aware of. Outside of swimming and surfing zones, the paddle board has been deemed a "vessel" by the United States Coast Guard. If you're operating a vessel in the U.S, according to the Coast Guard requirements you need to have the proper safety equipment onboard. For paddle boarders, these safety items include a sound device, light source if you are out after dark, and the most important, a PFD. These new rules have led American paddle boarders to seek the newest, most stylish, and reliable PFD's on the market. So if you are part of the adventurous majority of stand up paddle boarders, this is a great starting point to learn the basics and scroll reviews to see which PFD suits your needs best.
First, let's go over the class types of each PFD. There are five different PFD classifications and each offer something different to the user.
PFD Types
The Type I PFD is the most basic of personal floatation devices. They are mandatory on all commercial watercraft, and vessels over 12 feet in length. They are usually orange or of a bright fluorescent color and are in the shape of a simple rectangle with a single lanyard buckle. A double lanyard is common for child size type 1 PFD's which the lanyard doubles in between the legs and buckles to the chest area. The opening of the Type I life preserver goes around the neck and the nylon lanyard wraps around the middle of the back and secures with a buckle in the front. The design is to keep the individual's upper torso and head above the water, while also being highly visible to search parties. It has a buoyancy of 22 Ibs. (10 Kilograms) and is common for offshore waters, or when a rescue team is a great distance in response time.
The Type II PFD is more or less in the shape of a jacket style. Commonly having 2-4 buckle straps across the chest the Type II is more often used near inshore waters and in areas of calm water. It has less bulk than the Type I vest and holds a minimum buoyancy of 15.5 Ibs. (7 kilograms). Used by both Adults and children, the design is to keep an unconscious swimmer face up but hasn't been proven in all cases. It is the most common classification of life vests and this style is mostly used for kayakers, paddle boarders, boaters, water-skiers, and wakeboarders.
The Type III PFD classification is a more comfortable fit of the Type II vest. Commonly worn in the style as a cold weather jacket, belt, or fishing vest, they are designed to float the wearer vertically, with the individuals face above the water. They hold a similar design to the Type II PFD with a buoyancy at 15.5 Ibs (7 kilograms) but they have more versatility with options for pockets and less slack with shorter nylon straps. They have a large range of uses for aquatic activities and can cost more than the most regular PFD's.
The Type IV PFD is considered a throwable floatation device, such as a ring buoy or seat cushion. A ring buoy is the orange donut shape with a single line around its circumference, typically seen on the outside passageways of ships or ferries. It is designed to be tossed to individuals who have fallen overboard or who have lost their ability to swim. They are strategically placed on certain points of a ship for quick response access. The option to tie a lifeline to the Type IV is used to reach stranded individuals who can catch the ring and be pulled back to the ship. This floatation device holds a minimum buoyancy of 16.5 to 18.0 Ibs. Another style Type IV PFD would be the throwable cushion. These are usually square cushions with a strap on two sides. The user can grasp the cushion or slide their arms through the straps to remain afloat.
Lastly, the Type V PFD is considered a hybrid of sorts. These life preservers have a Co2 cartridge installed for hydrostatic or pull chord activation. When under a certain amount of water pressure the hydrostatic release will activate the automatic inflation system or if the pull string is activated, the bladder tucked in the vest will inflate within seconds. Worn predominantly by the crewman of ships, fishermen, or the common boater who wants to wear a compact, light weight harness that gives your body space to breath and move without restriction. The vest goes around the neck and rests on both sides of the chest, and the strap loops around the back and buckles just above the belly button in front. There are also belt pack PFD's that wrap around the waist and perform the same actions when activated. A Co2 gauge is located in the front that reads green or red, to inform the user when the Co2 Cartridge needs to be changed. Its not often, but, if the Co2 cartridge should fail to inflate the plastic bladder, or if you notice any deflation after your time in the water, there is a blow straw that quickly inflates the vest with breathable ease. It is designed to float the user vertically and in a face-up position.
Get Fitted
Three of the common classifications for PFD sizes include child, youth, adult, and pet life jacket sizes. A common vest style lifejacket for recreational boating or water sports is the Type II PFD. This type usually has zippers and or buckle straps to secure the vest to the body. When finding the right size for yourself or a child, you need to make sure the life preserver fits snuggly. A great way to know if the jacket is too big for you, is if you try it on and the shoulder portion of the lifejacket rises up past your ears. You basically do not want a large gap in the shoulder area. The life jacket should always wrap snugly across the chest with out the buckles overlapping. A majority of life jackets have the body dimensions and weight limit printed on the inside neck or back panel of the jacket.
When shopping for the best PFD for SUP you want to make sure that you get the one necessary and comfortable for what you're doing on the water. If you're buying a jacket for water sports such as stand up paddle boarding, any neoprene foam jacket with buckles and straps would be a wise choice. If you're buying one and you plan on staying dry, however, make sure that your jacket will allow your body to breath. Many different variations of kayak, paddle boarding, fishing, or boating jackets allow for air-flow with specially made material. The Type V PFD is probably the least constricted wearable floatation device allowing for maximum comfort. They save space since they are inflatable and are compact for easy storage. A more common choice for Stand up paddle board enthusiasts not looking to get wet. You want to ride in comfort when wearing a lifejacket. Finding the right type II or Type V floatation device will keep you cool, stylish, and most of all safe while out on the water.
Best PFD For SUP Sizing
Adult sizes vary for anyone over 90 Ibs. If you cannot connect the two buckles or fit the best ends of the PFD across your chest comfortably, then the PFD is too small for you. You want to be able to breath comfortably when wearing a PFD, but you don't want it to be too loose either. Most sizes and Types are unisex, however there are different variations when it comes to womens vests, which will be covered under the vest section.
Children and youth sizes range from toddler to young teen sizes. Most toddler sized PFD's come with a neck rest and a crotch strap to ensure a snug fit around the body. Youth sizes replicate the adult size Type II PFD's and perform the same function. A child size would be considered for 30-50 Ibs and Youth 50-90 Ibs. Animal PFD's are not certified by the U.S Coast guard, and don't necessarily have a Type of their own. When fitting an animal, such as a dog with a PFD, you should also make sure the PFD fits snugly and not too loose around the body. Try to avoid entanglement of the animals limbs or your pet falling out after jumping in the water. Do as you would to a dog as you would with a child's PFD.
Make Sure You Float
Standard Type I and II adult PFD's have a minimum of 22 Ibs of buoyancy and for children sizes 11 Ibs. For Type V inflatable PFD's, a minimum of 34 Ibs of buoyancy is required. A simple way to know which amount of buoyancy will float you, is to remember that 22 Ibs of buoyancy can easily float a 200 Ibs. person. A body with that weight in the water weighs around 10-20 pounds, so all Coast Guard approved PFD's will float the average body weight. If you determine that the PFD of your choice isn't Coast Guard approved, you may not be buying a quality floatation device and one that will not hold up to federal standards and regulations. Make sure to check this information before purchase otherwise you may end up with something unreliable.
PFD Regulations
PFD regulations vary by each state however, the U.S Coast Guard requires recreational vessels such as canoes, kayaks, and now stand up paddle boards to have at least one Type IV throwable floatation device on board at all times. Most states require children 12 years old and younger to wear a coast guard approved life jacket while the vessel is underway, and some states only require an age limit of 6 years and under to wear a lifejacket at all times while in motion. Regardless of age or experiences, all users should test out their PFD's immediately after purchase to ensure proper functionality. And again, always make sure that it is USCG certified. Depending on your country and its regulations, you could be fined for failing to have the proper equipment.
Certain Things to Look for Before Purchasing a PFD
There are PFD styles that cater to everyone's needs. Depending on your particular activities on the water, your vest should reflect what you're doing. The most common PFD's are the hip belt, suspenders, and vest. All which are comfortable and easy to don. Obviously you're looking for a snug fit with your SUP PFD, but also reliable material. Neoprene is usually the best route or any Nylon denier fabric that encloses the inflatable bladder or foam pads. This fabric allows for the water to bead off and keeps for a long-lasting durable life jacket. For the sport of Paddle boarding any three of these PFD's will work, however you don't want to have a Co2 activated life vest on if you plan on jumping in the water often. Just remember to take it off beforehand so you don't waste the cartridge.
Maintain Your SUP PFD
Shopping for the perfect life jacket isn't always an easy one, but once you have found the one that fits you perfectly, you can feel confident in your safety on the water. After every use make sure you hose off your PFD with fresh water and hang it out to dry. Quality PFD's aren't cheap and if you want them to last long you will conduct the proper maintenance on the zippers, inflatable bladders, and Co2 cartridges. Always check to make sure there aren't any tears or rips forming in the nylon. One little cut could eventually work its way around the whole jacket.
There is always the possibility of being knocked unconscious while boating or being involved in any type of water sports accident. Never think that it can't happen to you, be prepared by having a PFD on at all times or on your paddle craft of choice. It's the law because it could be your connection between life and death. Having a life jacket on hand can also help save someone else life. If you see an accident happen and you are able to throw your life preserver to a drowning person or use it to assist an unconscious individual who is with out one can make all the different when making a sudden decision. Stay alert when on the water and find a PFD that you will feel comfortable in. It's worth every penny.