SUP touring is one of the most exciting disciplines of stand up paddling. What could be better than exploring gorgeous places on your paddle board? It is easy to get started, standing gives you a full view of the scenery, and it's a full-body workout!
But to enjoy this amazing experience, you will need a proper touring paddle board. This may sound easy, but there are just so many options and confusing information out there.
So we recommend our 18 best touring SUP boards—both hard and inflatable—to help you out. This is a list we came up with after extensive research and testing.
We also discuss how you should go about choosing a board that is perfect for your exploration needs. We have some important tips to get you started too because we want you to have the best SUP touring experience.
The Bluefin Sprint Carbon SUP is our best overall touring paddleboard for 2021. This paddle board has pretty much everything you would want in a touring SUP. And the fact that it is inflatable means you can travel with it anywhere.
The Sprint Carbon, being 14 feet long and 30 inches wide, glides on the water with impressive speed. It offers a smooth, fast, and fun ride.
Some people may question the rigidity of the Sprint Carbon, being an inflatable and all. But its construction is remarkable. It is easily one of the most rigid inflatables you can find.
We love the large bungee storage at the front and another one at the back as well as the extra D-rings. You can bring all the stuff you need for your trips and even attach a kayak seat.
The Bluefin Sprint Carbon is fantastic and we discuss it more in detail below.
But if you are looking for something different, keep reading for more touring boards' reviews.
Best Hard Touring Paddle Board – Tahoe TALLAC
Many paddlers prefer hard paddle boards when it comes to long-distance paddling. If you're one of those paddlers then you might love the Tahoe Tallac.
It is an awesome touring board, designed for the adventurous paddleboarder.
One of the cool features that got our attention is the advanced displacement hull design. Add to this the long and narrow shape of the SUP and you get remarkable performance.
But that is not the only thing that makes the Tallac stand out.
The SUP board comes with deck plug attachment points so you don't have to worry about how you will secure your gear.
This would be a great option if you are looking for a multi-day trip touring board.
The Best Touring Paddle Board for Beginners – Gili Adventure 12
Stand up paddle board touring is not just for the pros. Even newbies can join in the fun.
The Gili Adventure 12 balances speed and stability. It has great speed but it is still stable enough for beginners.
Another thing that makes the Adventure a nice beginner touring SUP is that it is affordable. It also comes as a complete package. You will get a backpack, paddle, manual pump, and a leash together with your SUP—all high quality.
We like that the Gili Adventure comes with bungee storage areas and attachment points for you to bring whatever you need.
The Adventure 12' is not just good for newbies. It is an amazing touring SUP with great features and impressive performance. So you can continue to use it even when you're an experienced paddler.
Best Budget Touring Paddle Board – iRocker Sport 11
Touring paddle boards are not cheap and most of them can be too expensive for some paddlers.
The iRocker Sport 11 is a fantastic option if your budget is tight but you still want a great touring paddle board.
This iSUP's performance is commendable. It is nimble and fast, perfect for all kinds of SUP expeditions.
With iRocker paddle boards, you never have to worry about where to attach your gear. The company is generous with attachment points as you will see with the Sport 11. It has action mounts, bungee areas, D-rings, and even safety handles that kids can hold on to.
The iRocker Sport 11 may be a budget option but you will be getting premium features and even premium accessories in the package.
Inflatable Touring Paddle Boards
Solid Touring Paddle Boards
Best Inflatable Touring SUP Boards
Read on for our reviews:
1. Bluefin Sprint Touring SUP
The Bluefin Sprint has been designed for speed. It is very popular among adventurous paddlers because of its performance and quality. Take a closer look.
Build Quality
This Bluefin iSUP is built using the densest Dropstitch pattern you can get. For every square meter, they use 11200 stitches of 500D space yarn. The double side rails are heat welded. The result is an extremely rigid SUP that will last a lifetime—seriously. It can hold up to 352 pounds and comes with a five-year warranty. It is the kind of paddleboard that you can take anywhere in the world and it will survive.
Stability
The Sprint is 30 inches wide and 14 feet long. It is not the widest paddleboard so stability may be an issue for complete beginners. Everyone else will find it quite stable. The construction makes it super stiff too, preventing flex. Boards that flex tend to be wobbly.
Performance
The Bluefin Sprint inflatable paddleboard is excellent when it comes to speed and glide. It is long and narrow with a pointed nose. This creates a streamlined shape that minimizes resistance, making it easy for the board to knife through the water seamlessly. The large central fin facilitates tracking, especially in flatwater.
Design
The iSUP has an eight-point bungee storage area at the front and a four-point at the back. You can bring all the necessities you need on those long tours. There are extra D-rings in case you want to attach a cooler or a kayak seat. The deck pad covers the area you will be standing on to ensure that you are comfortable and to prevent you from slipping. There is also a kick pad feature that lets you make sharp turns quickly.
Package
The Bluefin Sprint inflatable SUP package includes a pump, paddle, backpack, and a leash. The paddle has a polyurethane blade and a fiberglass shaft. It is 45% lighter than the average aluminum paddle. You can paddle faster for longer without hurting your shoulders and arms. The backpack has extra padding on the straps and back for maximum comfort. The pump is a dual-action with an ergonomic grip.
Features and Specifications
Made using military-grade construction
Two bungee storage areas
Additional D-rings
Three-fin system, center fin is removable
Croco-diamond deck pad
Kick pad feature
Five grab handles
Extra padding on backpack
Fixed GoPro mount
Reinforced double layer side rails
Measures: 14' x 30" x 6"
Weight: 28 lbs
Weight capacity: 352 lbs
Pros & Cons
Excellent speed and glide
Storage areas and attachment points
Reliable construction and quality accessories
GoPro mount for your camera
Manual inflation is tough
Customer Feedback
Most of the users are commenting on the speed of the Bluefin Sprint. They didn't expect an inflatable paddleboard to be that fast.
Another thing they love about it is how much it can hold. One paddler took three kids and 50 pounds of luggage on a SUP tour and they had tons of fun.
Someone else talks of the quality. He paddled some tough areas and the iSUP didn't get so much as a scratch. They highly recommend it.
2. Blackfin Model V Touring Paddle Board
The Blackfin Model V is iRocker's signature touring paddleboard. It was amazing when it was first launched; and in 2020, more exciting features were added. Check it out.
Build Quality
The Blackfin Model V is built using triple-layer composite PVC construction. It is the lightest and strongest inflatable paddleboard construction. It makes the SUP 20% lighter than a quad-layer board but it is just as durable. It also has a carbon rail which adds to the stiffness. You don't have to worry about the Model V getting dented when you are far out in the water on a day-long adventure.
Stability
This iSUP is on the wider side, compared to other touring paddleboards. A 32-inch width is generous and awesome for stability. It doesn't feel tippy like narrower boards, and it is easier to use for people with little SUP experience.
Performance
The Blackfin Model V is long and slightly narrow. It glides through the water quite nicely and with great speed. The good thing about this iSUP is that it is not too long that is hinders maneuverability. Paddlers of all sizes will find it easy to handle. You get both amazing speed and maneuverability. You can also make quick turns with no trouble at all.
Design
There are two six-point bungee storage areas for all your belongings while touring. The Model V has additional D-rings. You can attach a kayak seat to take a break from standing.
This paddleboard has eight action mounts for you to attach speakers, cameras, and anything you need for a fun expedition.
Package
The Blackfin V inflatable paddleboard package includes a paddle, pump, leash, and backpack. The backpack has wheels which make it perfect for paddlers who travel a lot. The paddle has a carbon shaft and a nylon blade. It is lightweight and helps you make efficient strokes—which is what you want if you'll be paddling long distances.
Features and Specifications
Triple-layer composite PVC construction
Carbon rails
Two six-point bungee storage areas
Eight action mounts
20 D-rings
Three-fin system, all removable
Four safety handles
Three grab handles
Large deck pad goes past the inflation valve
Measures: 12'6 x 32" x 6"
Weight: 30 lbs
Weight capacity: 485 lbs
Pros & Cons
Fast and maneuverable
Two storage areas, lots of attachment points
Wheeled backpack and light paddle
Stable and durable
A little on the heavier side
Customer Feedback
Paddlers seem to be having tons of fun with the Blackfin Model V. "Amazing" and "perfect" are some of the words that have been used to describe this iSUP in the reviews. Users love that it is agile and performs wonderfully.
The speed and tracking are commendable. Some paddlers have been traveling all over, exploring different SUP spots with their Model V and they couldn't be happier. Everyone appreciates the attachment points, especially those who go on long tours where they have to bring lots of stuff.
3. Bluefin Cruise Carbon 12'
If you want a balanced combination of stability and performance, the Bluefin Cruise 12 touring sup is the board for you. It comes with many unique features that will give you a fantastic experience.
Build Quality
The paddleboard is made using 1000D exo-surface laminate PVC and pro-weave Dropstitch technology. There aren't many iSUPs that can be inflated to 28 PSI like this one. Its rigidity is impressive. The rails have carbon fiber reinforcement to prevent flex. This is arguably one of the toughest inflatable boards around—ideal for all kinds of situations.
Stability
The Bluefin Cruise Carbon 12 is 32 inches wide. The width allows it to be stable and still perform well. Its construction enhances rigidity which helps with stability. You don't want a board that will start bending in the middle and wobbling when you invite a friend to one of your cruises.
Performance
The Carbon 12 has a pointy nose and is fairly narrow. This shape allows it to cut through the water impressively. It is very smooth in how it moves—whether in the lake or the open ocean. It is only 12 feet long which is great for speed and maneuverability. Just like the Model V, this one won't be a problem to handle for smaller paddlers. It has a unique kick pad feature that helps with quick turns.
Design
This inflatable paddleboard has four-point bungee storage areas at the front and back for your essentials. It comes with a 2 + 1 fin setup and a US fin box. There are more D-rings for attaching a cooler or the included kayak seat, in case you want to rest your legs. The board has five grab handles.
Package
The Bluefin Cruise Carbon package includes everything you need for SUP touring, and then some. You get a paddle, bag, pump, leash, and a kayak conversion kit. The paddle has a polyurethane blade and a carbon shaft. It is lightweight and comfortable to hold. The triple-action double-chamber pump makes manual inflation less tedious.
Features and Specifications
1000D exo-surface laminate PVC and pro-weave Dropstitch
Reinforced carbon rails
Two bungee storage areas
Five grab handles
Additional D-rings
Kick pad feature for quick turns
Super comfortable deck pad
US fin box
UV-proofed decks
Measures: 12' x 32" x 6"
Weight capacity: 385 lbs
Pros & Cons
Five-year warranty
Exceptional performance
Easy to maneuver
Impeccable construction lasts a lifetime
Slightly heavy
Customer Feedback
Users agree that the Bluefin Cruise Carbon 12 features quality construction. They are confident that they will be using it for years to come.
Inflating this touring SUP board with the manual pump isn't as hard as many expected. It also holds the pressure for a long time.
When it comes to performance, the Bluefin cruises with commendable speed. It tracks very well too.
4. Nixy Manhattan Touring SUP
The Nixy Manhattan touring paddle board is an advanced iSUP designed for performance and durability. According to the manufacturer, it is ideal for intermediate and experienced riders. Let's look at the details.
Build Quality
The Nixy Manhattan is made using modern dual-layer fusion technology. The materials are the best in the industry. The result is an iSUP that has unmatched durability and stiffness. It has carbon rails that add to the rigidity. You know it is well made because Nixy Sports offer you a two-year warranty covering everything (except normal wear and tear).
Stability
At 30 inches wide, the Nixy is quite stable. Even some beginners may be comfortable using it. You can fully enjoy your adventures without having to worry about a tippy board. The Nixy is rigid and buoyant. It will not flex or sink.
Performance
This inflatable touring SUP has a pointed nose and a narrow tail. The shape makes it cut through the water with minimum resistance. The ride is fast, seamless, and thrilling. Its large center fin ensures that it stays on track. The paddleboard is not too long and bulky—so it is maneuverable.
Design
There is a four-point bungee storage area at the front and a six-point at the back. It features a single-fin system and a total of 14 D-rings for optional gear attachment. The EVA pad is comfortable and large, covering most of the deck. You can get the Nixy touring iSUP in two colors: blue and red.
Package
The Nixy Manhattan SUP package includes a bag, paddle, pump, shoulder strap, and a leash. Its pump is a dual-chamber triple-action that makes your work easier. The fiberglass paddle is adjustable and breaks into three pieces for travel. The bag has wheels and is perfect for traveling.
Features and Specifications
Dual-layer fusion technology
Carbon rails for added rigidity
Two bungee storage areas
Narrow tail and pointed nose
Two colors available
14 D-rings
One center fin
Three grab handles
Large soft deck pad
Measures: 12'6 x 30" x 6"
Weight: 23 lbs
Weight capacity: 350 lbs
Pros & Cons
Premium accessories
Wheeled backpack for travel
Comfortable, padded leash
Outstanding glide
No side fins
Customer Feedback
As expected, most people bought the Nixy Manhattan for touring. There's not a single negative review about its performance. The speed is impeccable and paddlers are enjoying themselves. It is not hard to control the SUP. Inflating to 20 PSI is not anyone's favorite thing to do but they say that the pump is really good. The white gets dirty quickly, but no one is complaining.
5. Thurso Surf Expedition
The Thurso Surf Expedition iSUP is designed specifically for SUP touring. It has a streamlined shape that significantly reduces drag and allows for effortless glide.
Build Quality
It features a double-layer construction and triple/quad military-strength PVC coatings on both the deck and side. This, and the Dropstitch core, make the Thurso Surf Expedition one of the most durable iSUPs you can get. It also improves performance.
Stability
The Expedition is 30 inches wide, giving you a great, stable platform even when paddling fast. Its three fins ensure maximum stability when you are exploring rough water. The premium construction prevents the Thurso from bending or sinking and making the board wobbly.
Performance
The Expedition's nose is pointed and the tail is narrow, creating a streamlined shape. This enables the iSUP to slice through the water seamlessly and fast. For maximum speed and even less drag on flatwater, you can remove the side fins and use just the central one.
Design
The Thurso Surf Expedition features a three-fin setup and all of them are removable. This allows you to customize your fin system. The board will also fold nicely for storage when deflated. Bungee cords are attached at the front and back for storage. The SUP has two grab handles at the nose and center.
Package
The Thurso Surf Expedition SUP package includes paddle, pump, leash, and bag. The paddle has a carbon shaft and only weighs 2 pounds. It has a locking shaft mechanism in case you want to convert it to a kayak paddle. (The kayak blade is sold separately). The large backpack has rugged wheels and a nylon outer shell.
Features and Specifications
Dropstitch core and double-layer construction
Two bungee storage areas
Sleek design
Two grab handles
Three-fin system, all removable
Roller backpack
Toolless fin installation
Measures: 11'6 x 30" x 6"
Weight: 28 lbs
Weight capacity: 330 lbs
Pros & Cons
Gorgeous design
High-quality accessories
Narrow, streamlined and fast
State-of-the-art construction
No tail grab handle
Customer Feedback
The Thurso Expedition may not be as long as other touring SUPs, but users say that it glides with remarkable speed. It handles very well even when the water is not calm. People love the roller bag and the ultralight carbon paddle. Everything in the package is solid and durable. Some say the board may not be suitable for complete beginners.
6. Peak Expedition SUP 11'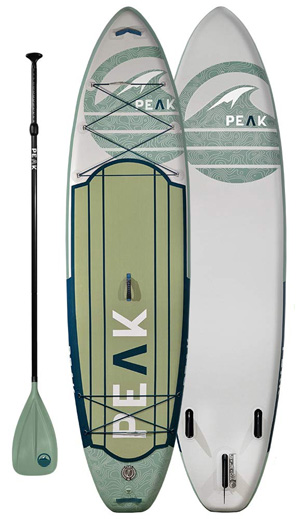 Nothing says SUP touring board like a long and light iSUP. The Isle Peak Expedition is best suited for the adventurous paddleboarder— the one that loves to explore the water. It is 11" long and has a hybrid nose. These two features help with speed and slicing through the water. You should really consider this board if you are looking for a paddleboard that cruises smoothly.
When the Isle Peak is fully inflated it only weighs 19.5 lbs; comparable models are 35% heavier. It is light enough to be carried by one person (there is a center carry handle). The width, 32" makes it easy to attain and maintain balance even for beginners and gives you enough space to keep your luggage. Speaking of luggage, there are bungee straps at the front and back of the deck to fasten your stuff.
Check out all that the Isle Peak has to offer.
Features and Specifications
Military-grade PVC construction; cannot be punctured
Soft deck pad for comfort
Comes with accessories: waterproof phone case, fin, pump, leash, paddle and back pack
Three carry handles
Comes in two colors: aqua and moss
Front and rear bungee straps
Dimensions: 11' x 32" x 6"
Weight: 19.5 lbs
Capacity: 350 lbs
Pros & Cons
Glides smoothly
Virtually indestructible
Comes with iSUP accessory bundle
Adequate bungee straps
A little tough to inflate with manual pump
Customer Feedback
Generally, the Isle Peak has been received well by customers. Because of its dimensions, it is a great board for all kinds of SUP variations and is especially perfect for touring. The bungee straps at the front and rear offer safety for gear. SUPers appreciate the accessory bundle. They also say that this board glides very smoothly and the speed is not that bad. Finally, the Isle Peak is pet-friendly; the soft top ensures comfort.
The Explorer 11' is a product of ISLE, a family of water enthusiasts from California. They are known for creating premium water products. This inflatable paddleboard is designed for the adventurous SUPer. It has 14 individual D-rings and bungee systems to help you strap your gear efficiently.
The nose is ultra durable, just in case you bump into something. ISLE are awesome and they offer you a complete package. In the box there is a carry backpack, an adjustable aluminum paddle, a high pressure pump that inflates to 15 PSI and a removable travel fin.
The technology used to make the ISLE Explorer is high-end and the result is a lightweight, stiff and tough inflatable SUP touring board.
Features and Specifications
Made from military grade PVC for extra durability
Comes with accessories in package; carry bag, pump, paddle and fin
Built with Fusion-Lite construction making it -30% lighter
Has 14 D-rings
Tail carry handles and bungee systems for easy moving
Three piece aluminum adjustable (65" to 86") paddle
Dimensions: 11' x 32" x 6"
Weight: 22 lbs
Capacity: 275 lbs
Pros & Cons
Stiff and stable
Ultra durable
Easy to inflate and deflate
Great maneuverability
Multiple tie-downs
Does not include leash in package
Customer Feedback
Customers seem to agree that this is a pretty good touring board. It tracks well and is super stable. Users have noticed (with appreciation) the multiple tie-downs on the ISLE Inflatable Explorer. Any touring SUPer knows that those are super important. Another great quality is that the touring iSUP is very durable.
8. iRocker Sport 11' Paddle Board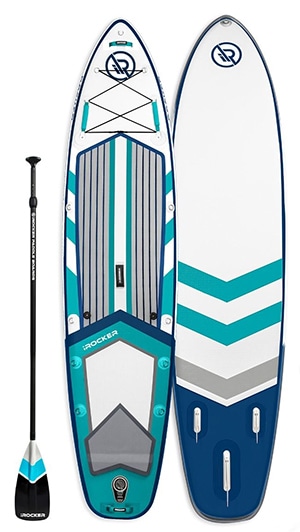 This one is a product of iRocker, a company that is famous for its awesome water products. The iRocker Sport is one of the most rigid inflatable paddleboards that you will come across. It inflates to 15 PSI and does not bend in the middle or submerge in water. The 6" thickness also ensures this. The iRocker 11' is neither too long nor too short. It is fast enough and at the same time, it is not difficult to control.
The package includes all paddling accessories including a manual pump, repair kit, leash, carry bag and paddle. The paddle is made of fiberglass and is quite durable. Moreover, it floats so you can easily reach for it when it falls. An optional blade is available if you want to convert it to a kayak paddle. The carry bag is very large— it fits the included accessories and still leaves room for personal effects.
Features and Specifications
Made with dropstitch construction
Comes with complete iSUP package
Available in two colors; blue stripe and gray stripe
Bungee straps for luggage
SUP paddle convertible to kayak paddle
Two-year warranty
Inflates up to 15 PSI
Fiberglass paddle floats
Soft diamond groove traction pad
Sufficient carry handle
Center fin
Dimensions: 11' x 31" x 6"
Weight: 25 lbs
Capacity: 385 lbs
Pros & Cons
Paddle floats
Large carry bag
Very stiff
Narrow and fast
Not the lightest SUP around
Customer Feedback
Users could not be happier with their choice. The iRocker Sport 11' makes a fantastic touring board. Its streamlined shape gives it an advantage over all-round boards. It glides very well and paddling it is such an easy task. Another thing that customers are happy about is iRocker's customer service. Every complaint was taken care of in time.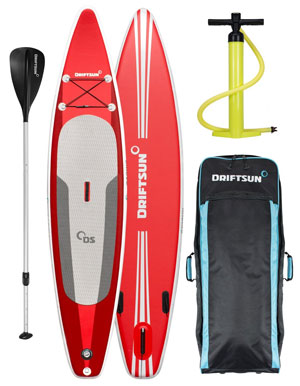 The Driftsun touring SUP is meant for intermediate and advanced paddlers. Besides being a touring board, it is perfect for racing and fitness paddling. Designed and manufactured by professional paddlers, the performance of this inflatable iSUP is unbeatable.
The board has a displacement hull and pointed nose to efficiently cut through the water. This volatile 11'8" iSUP has a textured EVA deck pad to secure your footing and keep you from slipping. There is a bungee system to tie down your cargo. The package includes an iSUP, a backpack with wheels, a high pressure pump, an adjustable aluminum paddle, a leash, removable fin and repair kit.
When fully inflated, you can easily mistake this inflatable for an epoxy board, except it is way lighter. The rugged military grade PVC that makes it allows you to be rough and adventurous without leaving dents and dings on the board.
Features and Specifications
Offers a complete paddling package
Built with rugged military grade PVC material for stiffness and durability
Ideal for touring, training, racing and fitness paddling
Has a displacement hull and pointed nose
Virtually indestructible
Paddle adjustable from 65" to 85"
Dimensions: 11'8" x 31" x 6"
Weight: 28 lbs
Capacity: 300 lbs
Pros & Cons
Offers all paddling accessories
Bag has straps and travel wheels
Lightweight and stiff
Fast
A bit short for a touring board
Customer Feedback
The Driftsun is a fantastic board. It is lightweight and easy to carry around. The bag is high quality as is the adjustable paddle. It is a stable board and can hold more than one rider. There are no negative reviews on the Driftsun.
Designed for the SUPer who loves to push their limits, the Tower Xplorer iSUP has fantastic technical specifications. With unmatched speed and durability, your SUP trips are never going to be the same again.
The Tower Xplorer is 14' long and 32" wide to give enough surface area and stability. It is the first ever 8" thick board to be made. With this dimensions, you can strap most of your gear for an extra long SUP tour. Two people can comfortably ride on this board since it has a capacity of 700 lbs.
The board comes with a three-piece adjustable paddle and a high pressure pump.
Features and Specifications
Has a wide surface area
Comes with a pump and a paddle
Has the rigidity of a fiberglass board
Very high capacity
Easy to store and transport
Dimensions: 14' x 32" x 8"
Capacity: 700 lbs
Pros & Cons
Tracks well
Suitable for heavier people
Large surface area
Rigid and stable
Does not come with carry bag
Difficult to pump
Customer Feedback
The customers are thrilled. This board seems great. It is thick and wide offering stability. Despite the weight, it tracks really well and can even accommodate two people on it due to its capacity. The only downside is that you might have to pay extra on a plane.
This review should help you narrow down your options and make a more informed decision. Your SUP tour does not have to be frustrating just because you could not get the right board. Even better, most of the best touring paddle boards above are all-round and suitable for all skill levels; which is awesome if you will be sharing your board. Pick the touring paddle board that wins your heart and have yourself a fantastic experience.
How To Get Started With SUP Touring
SUP touring is one of the best experiences that you can ever have. It helps you clear your head and rejuvenate your soul, making you feel fresh and alive. Moreover, the health benefits of stand up paddleboarding are something you might not want to miss out on. It has been termed one of the best workouts.
Getting started with SUP touring may seem easy—throw a few essentials on your board and just go. However, it is more complicated than that. There are a few things that you need to know and have before you go out into the water, whether it is during the day or night. In this article you will find the gear that you need, necessary precautions and basic tips for your first SUP expedition.
SUP Touring Gear
Getting The Best Touring Paddle Board
Choosing an expedition SUP board is the most vital decision you will make in your planning—especially if you are entirely new to standup paddleboarding. Lucky for you, there are boards designed specifically for SUP touring, unless you want to use your board for other things like SUP yoga. In this case, you might consider an all-round paddle board. This one does not have a displacement hull and might be limiting in terms of speed.
Cruising standup paddle boards are usually longer (ranging from 12 to 14 feet). Some even have a displacement hull for fast, straight tracking and a smoother glide in the water. Ensure that you get a board that has bungee cords for strapping your gear; this will come in handy.
Another important aspect is the width and the capacity of the board. Remember SUP touring may mean being out in the water for long. You need a board that can handle your weight and that of all your gear. Manufacturers always indicate the board capacity, pay attention. It should also be wide enough for there to be room for your essentials and for balance.
Whether to buy an epoxy touring paddleboard or an inflatable touring SUP largely depends on where you will be paddling. For white water paddling you better get an inflatable cruising SUP board. Renting a board is always a good idea so you can make a decision from experience.
Getting The Best SUP Touring Paddle
Stand up paddles are made of different materials. The lighter ones will be easy on your arms (especially if you will be paddling for long) but they are more expensive and can barely endure tough conditions. Heavier ones are cheaper and more durable. You need to consider your budget, the water conditions and the length of your trip here.
As for the paddle length, it should be around 4 to 7 inches taller than you. Adjustable paddles are the best since you can vary the length depending on conditions.
Other Essentials
Dry Bags
All your gear will be strapped on your board. The chances of water getting on it are very high—actually, getting water on your gear is inevitable because your board is more than likely to capsize. Dry bags may not be the cheapest thing in the market but they are well worth their price. Some things like phones, cameras and electronics are way more costly and should they get damaged, you will be counting your losses all through the year.
The perfect idea would be to be to buy two dry bags (or more if you have the money). Have a larger one for everything; clothes, a sleeping bag, etc and a smaller one for electronics, snacks, sunscreen and other small essentials.
Tools
You may be wondering what tools have to do with anything here. Well, you will be out in the water, it may be a long trip and you will be probably be alone. You can never predict what will happen. Must have tools include a GPS and a compass. If you will camp somewhere, remember to bring cooking material, tools for fixing stuff and safety tools. Be armed and prepared—you can never be too prepared.
SUP Touring Tips and Precautions
Do Your Research
Researching before your SUP expedition is something you cannot fail to do. It is always great to know what to expect and be familiar with your route. Internet is one of the best things that ever happened to mankind; make use of it. If you have not picked a particular river yet, go online and search for navigable rivers in the area. Better still, see if someone has toured the river before and get in touch to ask questions.
After picking out a river find out if it is seasonal and make sure the rapids and waterfalls are something you can handle on a touring SUP. There is a lot of mapping software that you can use to get even the smallest details about your route.
Safety First
Your safety cannot be emphasized enough. This is the one thing you should consider above all others. Never embark on a SUP cruise without a leash, a PFD, a whistle and a first aid kit. With a leash, you can never be separated from your board when you fall in, more so in a deep section.
When things get rough you can count on your board to help you stay afloat; so you better make sure you can reach it. For extremely harsh weather, experts recommend two leashes, or a rope around your waist. If you brought so much on board, the leashes might give up the struggle.
Even if you have planned a short trip, have an emergency kit and a float plan. Know how to use the kit; otherwise it will be just useless. Leave your float plan to someone you can rely on,either a friend or your family.
Have A Means Of Communication
As you research about your touring area, do enough research to know about the mobile/data coverage. It will be very unfortunate when you want help but cannot get it because there is no coverage. It is also very disappointing and frustrating when you are unable to share your journey on social media.
Even with good coverage, a dead phone is of no use; know how you are going to charge your phone while out there. Buy a solar charged power bank if you have to.
Know When To Bring A SUP Touring Buddy
Usually, many people want to go on a SUP cruise to be alone with their thoughts. This is totally okay if it is a short day trip at a safe place. A night expedition, however, can be dangerous and in other instances your imagination will start working against you. It is comforting to know that someone else is watching your back in times like these.
For a long day trip, it is also wise to have company. Sometimes the body just won't cooperate and fatigue may kick in while you are in the middle of nowhere. What if you pass out? It is scary but it is a possibility you cannot ignore.
Do Not Forget To Create An Exit Strategy
You see, the thing with life is that we make plans knowing very well things might not turn out as expected. SUP touring is no different. Never forget that things may go south. You do not have much control; so have a backup plan.
The key to making a good plan B is to carefully go over your original plan and figure out what might go wrong and where you might end up. Then come up with a scheme on how to get out of that situation safely. When you have a backup plan you will feel safe and prepared. With less panicking and more confidence, you can deal with the situation better.
Pack Light
Even if your board is wide, stable and with a great capacity, do not get ahead of yourself. Before you throw anything in the bag ask yourself if it is really necessary; and even that which is necessary should be light and compact. Remember you are not moving, it is just a SUP trip—you will be back.
Engage The Locals
It is good to talk to the people who live around your chosen route. They know things that you cannot find on the internet. Be nice to them and they will reciprocate. Ask them for more details about the area; the best spots, where to avoid, what to look out for and whatever else you want to know. They could turn out to be of great help.
Taking a SUP tour is doing yourself a huge favor. Whether long or short, it is a great way to connect with nature and take your mind off things for a while. The best thing about it is that you do not need a lot to go on a SUP expedition. As long as you have a board, paddle, leash, PFD and a few necessities, you are good to go.
Just make sure you do enough research, have a means of communication and bring a friend if you think it is important. Do not bring too much, have a plan B and pack light. Wherever you are going, be nice and friendly to the locals. Remember that your safety is your first priority. Finally, have fun and take lots of pictures!