After an exciting day of paddling, you want to store your paddleboard properly and safely. The last thing you want to see is a damaged SUP just when you are ready to take it out to the water. This makes a paddleboard storage rack a necessary investment.
But which rack should you buy? There are so many options. And every manufacturer says theirs is the best.
Don't waste your money on an inferior product. Let me help you choose the perfect storage rack for your paddleboard. Here are the top 10 SUP storage racks in the market—their features, pros, cons and feedback from users.
RELATED: 19 SUP Paddle Board Accessories You Don't Want To Do Without
If you're short on time, here are the storage racks I review:
Best Paddle Board Storage Racks
Best Paddle Board Storage Rack Reviews
Read on for my reviews:
1. StoreYourBoard Paddle Board Ceiling Rack
Most people have a congested and disorganized storage area. The StoreYourBoard ceiling rack will help you free up some space on the floor and keep the SUP from getting dinged.
Build Quality
This metal paddle board ceiling rack is built using heavy-duty steel. The material is steady and there is no chance of the boards falling. It is designed to hold a maximum weight of 50 pounds.
Dimensions
The storage slot is 12 inches thick and 27 inches wide. Most boards are about 6 inches thick so you could fit two paddleboards. But you are advised to use it for only one board. The width accommodates paddleboards with a maximum thickness of 36 inches.
Design
There is protective foam padding on the arms. Not only does it protect boards from scratches, but it also maintains some form of grip so they don't slip.
Installation is unbelievably easy and quick. All the mounting hardware and instructions are included in the package.
Features and Specifications
Heavy-duty steel construction
Arms have protective padding
Quick installation
Comes with mounting hardware
Suitable for all kinds of SUP
Weight capacity: 50 lbs
Easy installation
Sturdy
Clear instructions
Customer Feedback
Some users are honest that they were a little skeptical. But their doubts have been put to rest. The StoreYourBoard paddle board garage storage rack is sturdier than they expected. Its installation process is simple and they love the clear instructions. One user snapped a screw and had to rush to the store for another one. They wish the manufacturer would include one or two extra ones. There are no negative reviews.
2. COR Surf Wall or Ceiling Rack
Storing your paddleboard, on the wall or ceiling, does not have to be too complicated. The COR Surf rack is proof of that, as you will see.
Build Quality
It is made using galvanized steel and has a black powder coating to protect it from rusting. The protective padding is made using EVA foam.
Dimensions
The arms are 27 inches wide and allow for board thickness of up to 10.5 inches. Most paddleboards will fit here without any issues. The weight limit is 100 pounds.
Design
The COR Surf rack can be mounted on the wall or ceiling. Everything you will need to do that, including the instructions, comes in the package.
It has an EVA foam padding that keeps the steel from scuffing your board.
Features and Specifications
Galvanized steel construction
Black powder coating
EVA protective padding
190-degree bend accounts for heavy boards
Quick installation
Lifetime warranty
Weight capacity: 100 lbs
Lifetime warranty
High weight capacity
Impeccable construction
Great size and shape
Cheap screws
Awkward angle
Customer Feedback
The installation process is easy—there are no complaints about that. Some users say that the included screws are cheap and they had to buy better ones. The rack is sturdy and perfectly holds their paddleboards. While the 190-degree bent is great for heavy or two boards, it can be hard to place the SUPs if you mount it too high.
3. StoreYourBoard Naked SUP Wall Storage Rack
This is the ultimate space saver. And once you hang your board, you will notice that it actually enhances the room appearance. If you like showing off your SUPs you'll like this paddle board wall rack.
Build Quality
The rack is constructed using aluminum metal. It is known for its rigidity and for being lightweight. It is also rust-proof so don't worry about getting it wet.
Dimensions
From the wall, the rack extends 11 inches. Boards are stored on their side so this is more than enough. The front lip is 4.5 inches tall.
Design
The StoreYourBoard Naked rack has felt lines so your paddleboard does not get scratched. These felt lines extend to the arms. They also prevent slipping.
The design only allows you to store one paddleboard.
Features and Specifications
Aluminum metal construction
Rigid and lightweight
Rust-proof
Felt lines for soft padding
Sleek minimalist design
Weight capacity: 50 lbs
Great design
Corrosion-resistant
Sturdy construction
No drywall mounting hardware
Customer Feedback
According to the users, the StoreYourBoard paddle board wall rack offers value for money. There were no issues with installation—they say it is easy. It holds paddleboards very well and paddlers have no worries. In a few reviews, users report that the mounting hardware included does not hold well on drywall.
4. FITactic Metal Display Wall Rack Set for SUP Board
Some paddlers prefer to have a little color, even in the garage. The FITactic gives you a wide range of options to match your style or the color of your SUP.
Build Quality
The rack consists basically of metal tubes made using galvanized steel. It is powder-coated to prevent rusting. The foam is well made and weather-resistant.
Dimensions
The FITactic has an outside width of about 10 inches and an inside width of 8 inches. This will fit any paddleboard, thanks to the extension arm, and maybe even a paddle. It can handle a maximum weight of 70 pounds.
Design
As already mentioned, you have several colors to choose from: black, blue, red, pink, green, grey and orange.
This rack has a detachable extension tube to make installation easier. There is protective foam for a firm grip and board protection.
Features and Specifications
Galvanized steel construction
Powder coating
Weather-resistant foam
Seven colors to choose from
Detachable extension tube
For vertical wall mounting
Weight capacity: 70 lbs
Color options
Easy installation
Sturdy
Customer Feedback
Paddlers love the color options. For the price, they appreciate the quality and sturdiness of this rack. One user says that the padding is too thin and their soft top was scratched. That is something you can solve with a towel, though. The general feeling is that the FITactic is a good wall storage rack.
5. Krypt Towers Ultimate Board Sports Wall Mount Storage Rack
For many paddling enthusiasts, one paddleboard just isn't enough. But while having several boards is great, organizing them can be a pain. The Krypt Towers Rack helps you neatly display a maximum of four SUPs.
Build Quality
To make sure all your four boards are securely stored, this paddle board wall mount rack is constructed using heavy-duty steel. This metal is 100% sturdy. The padding is made of thick rubber to protect your precious toys from dings.
Dimensions
The two vertical tracks are 48 inches long and each of them has four 15-inch fingers. Any board, not just a SUP, can fit here. You can move the fingers up or down to accommodate a board's thickness.
Design
Both the height and width are adjustable, making it a universal paddle board wall rack for garage storage for any kind of board. The fingers have thick rubber padding to protect even the most delicate paddleboards.
Installing a multiple-board rack may sound hard but it is not. Everything you need is included in the package.
Features and Specifications
Heavy-duty steel construction
Thick rubber padding on fingers
Adjustable height and width
Comes with all the installation hardware
Fits four boards
Universal use
Ergonomic design
For multiple boards
Easy installation
Solid
Customer Feedback
The installation is straightforward, according to the reviews. Once mounted, the rack is solid and the users expect it to last. Some paddlers say that it does not work well with heavy paddleboards. After a while, it starts to bend.
6. SPAREHAND Double Wall Mount Rack
Display your paddleboards neatly and safely using the SPAREHAND wall mount rack. Its design is simple but reliable.
Build Quality
It features durable steel construction. This material is widely used because it is exceptionally sturdy—which is what you want for your SUPs. The maximum weight limit is 100 pounds.
Dimensions
The arms of the rack, where the paddleboards rest, are 27 inches long. The distance between the two arms (top and bottom) is about 13 inches. Considering that most SUPs are 6 inches thick, this is more than enough.
Design
The arms are angled and have thick padding. This prevents slipping and protects your SUPs from damage by the metal.
It fits two paddleboards of any size. Installation is easy and straightforward.
Features and Specifications
Durable steel construction
Fits two paddleboards
Angled arms with thick padding
Multipurpose use
Comes with instructions and mounting hardware
Adjustable arm angles
Weight capacity: 100 lbs
Reliable construction
Simple installation
Durable
Customer Feedback
The SPAREHAND Double wall mount is value for money. This is according to people who have used it. No one encountered an issue with installation—except the screws. Most users had to replace the cheap screws. Other than that, these paddle board wall hangers do a great job and look really neat on the wall.
7. Glacik Universal Wall Mount Rack
It can be hard to find a suitable rack for your heavy paddleboards. The Glacik Universal wall mount is designed for these kinds of SUPs.
Build Quality
The rack is made using sturdy steel. It can handle heavy paddleboards without bending. Thick material is used as padding on the arms. The Glacik can comfortably hold 120 pounds.
Dimensions
The arms extend about 27 inches from the wall. Mounting screws are 19 inches apart. These dimensions are suitable for a paddleboard of any size.
Design
The arms are removable and have padding so your board does not get scratched. You can use the rack indoors or outdoors.
It has an easy-glide and slide curve to make storage easy and keep the board in place.
Features and Specifications
Sturdy steel construction
Padding on the arms
Arms are removable
For indoor and outdoor use
Unique slide curve
For longboards and shortboards
Holds two paddleboards
Weight capacity: 120 lbs
Easy installation
Well made and durable
High weight capacity
Customer Feedback
You will barely find any complaints about the Glacik wall mount. Putting it up wasn't a problem for any of the users. It holds two paddleboards, just as the manufacturer claims. The quality is outstanding and SUPers are happy. One user noted that, while the slight curve is great, it limits how high up the wall you can mount your storage rack.
8. Seattle Sports Paddle Board / Surfboard Wall Mount Cradles
If you would like to have the option of mounting your paddleboard on the wall or ceiling, try the Seattle Sports SUP cradles.
Build Quality
The Seattle Sports wall mount is built using heavy-duty material that cradles your wide and heavy paddleboards without sagging. The recommended weight limit is 200 pounds—but it depends on your wall construction.
Dimensions
The rack has a width of 9 inches. Its measurements are 23.5 inches by 9.75 inches. No paddleboard is too thick to fit.
Design
The Seattle Sports is made in such a way that you can attach two pairs together and store two boards in a space-efficient manner.
There is protective padding on the arms.
Features and Specifications
Heavy-duty build
Suitable for thick boards
Protective padding
Multipurpose use
For ceiling or wall mount
Sold in pairs
Weight capacity: 200 lbs
Saves space
High weight limit
Can handle any board
Customer Feedback
It is safe to say that many users don't regret buying this wall rack. The installation process is simple—but some say the included screws aren't that good. The cradles are super sturdy and reliable. There are a few complaints about the padding. It is thin and, apparently, wears out too quickly
9. COR Surf 2 Boards Wall Rack
This Cor Surf wall rack comes with a paddle storage hook in the package. It is a free gift. But there is more to love about it as you will find out below.
Build Quality
The manufacturer claims that you will not find a stronger paddle board storage rack. It is built with durable steel and has a black finish. The construction allows it to hold a maximum weight of 100 pounds. You can use it inside and outside.
Dimensions
The arms extend 28 inches from the wall. The total vertical length of the rack is 20.5 inches while the distance between the arms is 10 inches.
Design
Installation is easy. You just have to snap the parts in place and you are done. There is padding for your board and they include a storage hook for your paddle.
Although it is meant to hold two paddleboards, you can exceed the number if there is space.
Features and Specifications
Includes a paddle storage hook
Durable steel construction
Black finish
For use inside and outside
Designed for two boards
Padding for board protection
Easy installation
Weight capacity: 100 lbs
Free paddle hook
High weight limit
Reliable construction
Simple assembly
Customer Feedback
The Cor Surf Double SUP wall rack has saved users some storage space. Many describe it as perfect. It is easy to put up and is very sturdy once installed. In some situations, users had to buy other bolts because the included ones didn't work for them. Other than that, they are not complaining.
StoreYourBoard 2 SUP Wall Storage Rack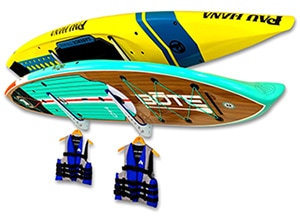 StoreYourBoard makes some really good racks. They are committed to making sure that your precious SUP boards are secure—and they did a good job.
Build Quality
This wall rack is built using powder-coated steel. It is durable and strong, able to handle 100 pounds—50 pounds on each level.
Dimensions
The total vertical length of the wall rack is 24 inches. Arms extend 21 inches from the wall and are 11.5 inches apart.
Design
The arms are coated with rubber and are tilted at an angle so that your board stays in place and also to prevent scratches and damages to the SUP. The attachments are designed in a way that lets you customize according to the size of your paddleboard.
Features and Specifications
Powder-coated steel
Arms coated with rubber
30-degree angle on arms
Adjustable attachments
Designed to store two paddleboards
Comes with mounting hardware
Suitable for all sizes
Weight capacity: 100 lbs
Great design
Adjustable
Sturdy construction
Customer Feedback
Users love their StoreYourBoard 2 SUP wall rack. Installation is simple, according to them, and it is rigid. They have used it to store their paddleboards and even longboards. A few customers say that they received a package with missing hardware. Everyone else is happy with their purchase.
Conclusion
ALSO READ: The Best Paddle Board Racks For Boat Owners
SUP enthusiasts invest a lot of money on their paddleboards. And each one of them is precious.
SUP racks are one of the best paddle board accessories to buy, since they keep your boards safe and out of the way. You can choose a wall rack or ceiling rack from the above option—depending on what's best for you.
YOU MAY ALSO LIKE: The Best Paddle Board Roof Rack For Safe Board Transport
All the items are high-quality and totally reliable.
Don't wait until your expensive paddleboard is ruined; buy a storage rack today.