The minute you decide to buy an inflatable paddle board, you'll realize just how many options are out there. Each one of them is advertised as perfect, and if you're not careful , you can easily waste money on a SUP that you won't like.
As a paddle boarder myself, I know how important it is to have a SUP that's right for you. This is why I've taken the time to research and test out some of the best inflatable paddle boards on the market.
While every board on this list deserves it's spot – I have to say that the Atoll 11 is my number one choice. Read on and I'll explain why.
All The Boards We Reviewed
Best Inflatable Stand Up Paddle Boards of 2022
Let's take a closer look at these inflatable SUP boards:
RELATED: How much does an inflatable paddle board cost?
1. Atoll 11' – Best All Around Inflatable Paddle Board
The Atoll 11 is my top pick for the best overall inflatable paddle board. It perfectly balances speed and stability, making it a great option for paddlers of all skill levels, and the build quality makes for a durable board that I know I can rely on.
In fact, one of the main things I love about the Atoll 11 is its rugged construction. The machine-laminated dual-layer PVC and Korean dropstitch construction results in a SUP that can take pretty much anything. This means that it's one of the toughest inflatables around.
I have no worries about damaging the board when I transport my Atoll 11 to the water – or when I'm out on it.
The durability of the board is matched by it's great performance on the water.
In fact, I've found the Atoll 11' to be one of the easiest boards to paddle. The shape of the board and the tri-fin design help it to track well, and at 11 feet long and 32" wide it's easy enough to balance on, but still responsive enough for you to be able to control it.
This means it's a good board for beginners as well as experienced paddlers who want a stable board that doesn't feel sluggish in the water.
While the durability and rugged build quality make it a great board for all types of paddlers – it also means that the Atoll is suitable for multiple passengers on board. It can easily hold over 550 lbs, which is fantastic if you're like me and occasionally like to take your children paddling with you. Even when I have one of my kids on board (at a combined weight of around 300lbs), it doesn't affect the performance. The Atoll 11 feels sturdy; it doesn't sag in the middle, even when the weight capacity is being tested!
Aside from the great all-around performance and quality construction – the Atoll 11 impresses me with it's attractive package. It comes with everything you need to get paddling right away. You get an adjustable carbon and fiberglass paddle, carrying bag, manual pump, and a leash.
Atoll have even redesigned the backpack in response to some claims that the older version was poorly made. I can't comment on previous versions, but I will say that this new design feels durable, and is comfortable to carry around.
One thing that's worth noting about the accessory package, however, is that the paddle is not made entirely out of carbon fiber (it has a fiberglass shaft wrapped in carbon fiber, and the blade is made from nylon). However, I honestly don't think this makes much difference, and there's always the option to upgrade to a full carbon fiber paddle if you really want to.
In short, the Atoll 11 SUP has all the gear, accessories and features you'd hope to see from a great all-around board – and I definitely recommend it as the best iSUP out there.
Get The Atoll Paddle Board Now
2. iRocker Cruiser – Stable Enough for Beginners
One of the main reasons I love the iRocker Cruiser is its versatility. This is likely why it's such a popular choice – pretty much anyone can use this board! It's stable at 33 inches wide and offers a great learning platform. This means it's great for beginners!
I myself am not a beginner – but I can see why this board would suit someone new to paddle boarding. At 10'6 and with a slightly less pointed shape than other similar paddle boards, it feels very stable on the water.
It has all the technical specs that you'd expect from a good quality iSUP – such as reinforced rails and a drop stitch core, plus it is made from triple-layer military-grade PVC. It has a three fin setup which helps with tracking and speed (I actually found the iRocker faster than I was expecting from a SUP of these dimensions).
When inflated, the iRocker can hold up to 400 pounds and only weighs 25 pounds itself, so it's easy enough to transport and can comfortably hold you and your gear.
On the subject of gear, the iRocker can hold a lot! It features 20 D-rings, four action mounts as well as a front and rear bungee system. These are for attaching extra bits of gear, such as speakers or other personal belongings.
One physical feature that really sets the iRocker apart, however, is the fact that it has seven grab handles! I absolutely love this feature! Although it might seem insignificant, it makes handling the board so much easier. I only wish other paddle boards would follow iRockers example here.
Overall the iRocker Cruiser inflatable paddle board is definitely worth considering if you want a stable board that comes with everything you need to start paddling. The accessories include a carbon matte paddle, premium roller bag, dual-chamber triple-action hand pump, leash, and a repair kit.
Check Price of the iRocker Cruiser
3. Blackfin X – Best Yoga Paddle Board
If you have been looking to try out SUP fitness, this might just be the board for you.
The Blackfin X is wide and rigid. Featuring triple-layer PVC construction, carbon rails, and a width of 35 inches, the paddle board's stability is unmatched. You can comfortably practice SUP yoga without falling in every time you transition to another pose.
Since it is one of the most stable paddle boards, the Blackfin Model X is also a great family board. Let everyone join in the fun and see how well it holds.
The large soft deck pad prevents you from slipping. It is comfortable enough for kids and your furry friend and also doubles as a yoga mat.
The carbon reinforced rails (the sides of the board) make folding the board a little harder, but the extra rigidity they give the SUP board is well worth it.
SUP yoga is not the only activity you can do with the Blackfin X. It comes with 20 D-rings, eight action mounts, and bungee storage. These attachment points allow you to bring gear for fishing, camping, and all sorts of paddle boarding activities.
It even comes with three detachable fins so you can change the setup if you like.
The 2021 new design and colors are gorgeous. You have six color options.
In addition to all these fantastic features, the Blackfin Model X all-inclusive package includes a carbon paddle, premium roller bag, dual-chamber pump, ankle leash, and a repair kit.
4. Bluefin Sprint Carbon – Best Inflatable Touring SUP
If you are an advanced paddler looking for a high-performance paddle board, consider the Sprint Carbon.
At 14 feet long, 30 inches wide, and with a pointed nose, the Bluefin Sprint is built for speed. It cuts through the water with minimal resistance making for an exciting ride.
The Sprint Carbon is built using reinforced composite dropstitch and military-strength PVC. It also features carbon rails, resulting in one of the most rigid inflatable boards you can find.
The Sprint Carbon can hold up to 418 pounds and comes with a five-year warranty.
There is a universal action camera mount at the nose so you can capture every epic moment.
The board also has two bungee storage areas and extra D-rings for you to securely attach your items.
The Carbon Sprint complete package includes a carbon paddle, coiled leash, backpack, and a triple-action pump.
Check Price of the Bluefin Sprint Carbon
5. iRocker All-Around 11 – Best for Heavier Paddlers
iRocker SUP makes some of the best inflatable SUP boards around for all kinds of paddlers. The All Around is a great option for big guys and girls.
Made using triple-layer composite PVC, the iRocker All Around is a super rigid board once inflated and can hold 435 pounds. It doesn't flex or sink when heavier paddle boarders are riding.
If you have been looking for a SUP that can hold you plus all your gear and maybe a dog, I'd recommend the All Around.
This inflatable paddle board performs well and anyone can handle it, regardless of skill level. Compared to the Blackfin X, the All Around 11' is slightly less stable, but its speed is good (for an all-around board), and it is easy to maneuver.
With your iRocker All Around inflatable SUP, you will get a paddle, pump, rolling bag, leash, and repair kit.
The adjustable paddle now has a full carbon matte shaft and a nylon blade.
You'll also be happy to know that the iRocker All Around 11' has 20 D-rings and four action mounts. So you can try SUP fishing and SUP camping as well.
The All Around 11' is available in six beautiful colors and it comes with three removable fins–a large center fin and two side fins.
Check Price of the iRocker All Around 11
6. Glide Retro 10'6″ Inflatable SUP Board
The Glide Retro is 33.5 inches wide and 10'6 long with a rounded nose. The traditional paddle board shape makes the board a little less stable than for instance the iRocker Cruiser, but it is still a good choice for paddle board beginners.
The full-length deck pad offers plenty of room for your SUP yoga poses or pilates. It is a die cut EVA pad and the non-fading, retro colors make the board stand out from the rest.
The Glide Retro is built using ultra reinforced dropstitch construction. It is so dense it can be inflated up to 25 psi (but the manufacturer recommends 12 to 15 psi).
Despite the heavy duty construction, the Retro only weighs 23 pounds. It has three comfortable neoprene carry handles; so you won't have a problem carrying the SUP when it's fully inflated.
You will love the Glide Retro package, especially given how affordable it is. It includes a high-capacity pump, adjustable paddle, roller backpack, leash, repair kit, kayak seat, and a carry strap.
This paddle board features a single-fin system with a USA style fin box.
There is a bungee cargo area at the front and extra D-rings for when you want to bring gear.
Check Price of the Glide Retro
7. Bluefin Cruise Carbon 12
Bluefin SUP Boards is another company that has been making awesome SUPs for years. They make some of the most rigid inflatable paddleboards.
The Bluefin Cruise Carbon 12 is built using their 1000D exo-surface laminate and pro-weave dropstitch technology. It also has carbon fiber rails to reduce flex as much as possible.
One thing that makes the Bluefin Cruise Carbon stand out is its package. Like many inflatable SUP boards, it comes with a carbon fiber paddle, pump, backpack, leash, and repair kit. On top of that, you will get a kayak conversion kit (a kayak seat and kayak paddle blade).
The Cruise Carbon 12 has a pointy nose and a kick pad, features that help with performance. It would make a great all-around/touring SUP.
There are D-rings for attaching the kayak seat and other items.
Like all the other boards by Bluefin, the Cruise Carbon has a five-year warranty.
Check Price of the Bluefin Cruise Carbon 12
8. Gili Adventure 11' Inflatable SUP Package
As you can guess from the name, the Gili Adventure is designed for the adventurous paddler.
If you love spending time out in the water trying different SUP activities, this may be the right board for you.
The Gili Adventure can be a fishing, touring, yoga, or relaxed cruising paddle board.
It comes with a bungee system at the front and another removable rear bungee for all your paddling essentials. The board also comes with Scotty mounts and extra D-rings for gear and accessories.
The Adventure inflatable SUP board is built using dual-layer PVC. It is a sturdy yet lightweight board. The 11-foot long Adventure weighs 22 pounds while the 12-foot one weighs 23 pounds. They can hold up to 290 pounds and 330 pounds respectively.
For fitness enthusiasts, the Gili has a large deck pad. It offers a comfortable platform for yoga or pilates as well as traction to keep you from slipping.
The Gili Adventure inflatable package includes a travel paddle, backpack, 2-stage hand pump, and a coiled ankle leash.
You can either choose to get a fiberglass paddle or a carbon fiber paddle. The fiberglass paddle option is cheaper.
Check Price of the Gili Adventure
9. Red Paddle Co Sport 11'3″ – Best Premium Inflatable Touring SUP
Red Paddle Co inflatable standup paddleboards are some of the most expensive SUP boards on the market. They are also super durable and have outstanding performance.
The Sport 11'3 board features a clean minimalist design. There is a unique Red Paddle Co bungee system on the deck as well as three grab handles, a textured deck pad, and a leash D-ring.
The Sport inflatable paddle board is built using MSL fusion technology, exclusively owned by Red Paddle Co. This, and their RSS stiffening system, results in an extremely rigid stand up paddle board.
So although the Sport 11'3 is only 4.7 inches thick, its sturdiness is unrivaled and it doesn't sag. It comes with a five-year warranty.
This paddle board remarkably balances stability and speed. At 32 inches wide, it is stable enough for paddlers of all skill levels. It has a nice streamlined shape and a speed tail. These features greatly improve speed and maneuverability.
The Red Paddle Co Sport inflatable package includes a backpack, repair kit, pump, and a waterproof phone case.
The Titan II dual-chamber pump cuts inflation time down by half. Unfortunately, the Sport doesn't come with a paddle.
For experienced paddle boarders who already own a paddle, this is good because the price is reduced. But for beginners, you will have to buy your own paddle separately, which means spending more money.
You should consider the Sport 11'3 if you want an upgrade from the average all-around paddle board.
Check Price of the Red Paddle Co Sport
10. Nixy Newport All-Around SUP 10'6 Review
Nixy Sports is not a new name in the stand up paddle boarding industry. Their inflatable SUP boards are popular and some of the best.
The Newport is a versatile all-around board that is suitable for beginners as well as advanced paddlers.
Its dual-layer PVC construction and carbon rails make it remarkably stiff. It can hold up to 300 pounds. The paddleboard performs well on rivers, lakes, and oceans. It is easy to control and you'll have fun doing all kinds of tricks.
The Nixy Newport is wide and moderately long. You can use it for SUP yoga and fitness or for paddling with your kids.
All the fins on this paddle board–a large central fin and two side fins– are removable. Some paddlers love detachable fins because they can change the setup for different paddling conditions.
The SUP has front and rear bungee storage as well as extra D-rings for attaching a kayak seat. There are also five action mounts for more accessories. You can bring enough gear for long paddle boarding trips.
One other thing that makes the Nixy Newport inflatable paddleboard awesome is its package. It includes a lightweight paddle, backpack, pump, and a coiled ankle leash.
The carbon fiber hybrid paddle breaks into three pieces for transport and storage. It only weighs 25 ounces.
The backpack has cargo hooks, side pockets, extra padded straps, and wheels. Traveling with your Newport will be easy and even fun.
To top all this off, the Nixy Newport comes with a 2-year warranty.
Check Price of the Nixy Newport
11. Thurso Surf Waterwalker Inflatable Paddleboard
The Thurso Waterwalker is one of those inflatable SUPs that makes people stop and stare.
It is gorgeous and you can get it in three colors. But that is not the only thing that makes it an excellent SUP.
The Waterwalker features a woven dropstitch core and dual-layer PVC. It has carbon rails and reinforced seams. It is a pretty solid paddle board that can handle heavy use and abuse.
Compared to other all-around inflatable paddleboards, the Thurso Surf Waterwalker is fast. I'd say it is one of the best all-around inflatable paddle boards as far as performance goes.
This paddle board has three size options, 10', 10'6, and 11'. You can choose the one that will best suit you depending on your body size and the activities you like.
The Waterwalker package includes a backpack, paddle, leash, and a pump. The carbon hybrid paddle is lightweight and efficient. It is much better than a fiberglass or aluminum paddle.
The dual-chamber triple-action pump works twice as fast as a single-chamber. The backpack now comes with wheels to make transport easier.
There are two bungee storage areas and extra D-rings for a kayak seat.
We love the paddle holder on the Waterwalker too. Some SUP activities like yoga and angling can be challenging when you have nowhere to put your paddle. Having the paddle holder keeps your paddle out of the way, leaving your hands free.
Anyone looking to buy an all-around inflatable SUP would love the Thurso Waterwalker. You even have the option to choose the size that is right for you.
Check Price of the Thurso Waterwalker
12. Bluefin Cruise 10'8 Inflatable Stand Up Paddle Board With Seat
The Bluefin 10'8 is an all-around paddle board that can go fast when you want it to.
We love the Bluefin Cruise inflatable package which includes a kayak conversion kit. Sometimes you get tired of standing and being able to sit so you can rest your legs is nice.
With most inflatable boards, you have to buy the conversion kit separately. Bluefin includes it in your package which saves you some money.
Other than the kayak conversion kit, you get a lightweight fiberglass paddle, dual-action single-chamber pump, repair kit, backpack, and a waterproof phone case.
The Bluefin Cruise 10'8 has a pointy nose that helps with speed. Its kick pad feature makes it easier (and fun) to make quick sharp turns.
Bluefin paddle boards are known for their durability, and the Cruise 10'8 is no different. It features 1000D exo-surface laminate PVC and pro-weave dropstitch technology. The result is a paddle board that is so tough, you can inflate it to 28 psi.
The Bluefin Cruise 10'8 has an action camera mount, two cargo areas, and additional D-rings as well as three carry handles.
If you want a paddle board that can take a lot of abuse, this is a good option. And it comes with a five-year warranty.
Check Price of the Bluefin Cruise 10'8
13. iRocker Nautical 10'6 – Best Budget Inflatable SUP
This is one of the best entry-level inflatable paddle boards around. The 2021 upgrade has added features, making it even better than some more expensive SUPs.
The Nautical is an excellent option if money is tight. It comes with a ready-to-paddle package and the accessories are great.
The premium backpack now has a wheel option. You can buy a wheel tray from iRocker and convert it into a rolling bag. The floating fiberglass paddle only weighs 32 ounces. It is adjustable 72 to 86 inches.
Unlike most boards in this price range, the iRocker Nautical inflatable is built using dual-layer PVC construction, instead of a single layer. It is tough and can hold up to 240 pounds.
The Nautical is a light board, weighing only 20 pounds. It performs well on slow-moving rivers, flat water, and the ocean. The SUP is maneuverable and anyone can handle it, from newbies to experienced paddlers.
Like all the other iRocker paddle boards, the Nautical now comes with 7 handles.
You can attach a cooler, kayak seat, cup holder, action camera, and other accessories, thanks to the bungee storage, D-rings, and action mount.
If your budget is tight but you still want a fantastic inflatable board package, you should check out the iRocker Nautical.
I recommend the Nautical 10'6 for lighter and shorter paddlers. At 195 lbs and at 6'1, I find the Nautical 10'6 to be less stable than some of the other boards on this page. If you are taller or larger, and looking for a budget SUP, consider the Nautical 11'6. The extra foot in length does make a large difference in stability and performance.
Check Price of the iRocker Nautical 10'6
14. Nixy Huntington Ultra Compact – Most Compact Inflatable SUP for Traveling
Some paddle boarders love to travel all over, checking out different paddle boarding spots. If that is you, the Nixy Huntington may be the right board for you.
It only weighs 18.75 pounds. Some people may question the quality of the Nixy Huntington because of its weight.
But it is built to last using dual-layer PVC and it has reinforced carbon rails. It has a weight capacity of 250 pounds when fully inflated and comes with a two-year warranty.
The Nixy Huntington is short at 9'6, compared to most of the other inflatable SUPs here. This length has a few advantages.
First, it makes the iSUP easy to control in any paddling condition. Second, the Huntington is unbelievably compact and folds down to a small package that you can carry anywhere.
When it comes to its features, we have no reason to complain. The Huntington has a two-fin system–two large side fins, all removable. It also has bungee storage at the nose and tail, additional D-rings, mounting brackets, and three grab handles.
The Nixy Huntington package is yet another thing we love about the SUP (and we know you'll appreciate it too). The carbon hybrid paddle breaks into four pieces for easy transport. It is adjustable 70" to 83". Oh, and it also floats!
The dual-chamber triple-action pump has foldable legs and removable handles.
As you can see, everything about this inflatable stand up paddle board is designed to make it the perfect traveling SUP. It would be a great option if you are an adventurous paddler.
Check Price of the Nixy Huntington
15. Honu Byron 10'6 All-Rounder
Honu is an Australian brand that has been around for about 20 years. They are now bringing their SUPs to USA paddlers.
The Honu Byron inflatable board is designed to be the ultimate all-arounder that can do everything. It is moderately long and wide, with a round nose.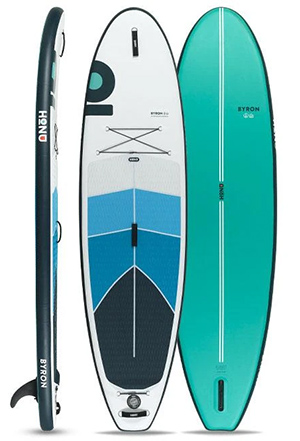 This shape and size make it a stable board that would be suitable for SUP yoga and relaxed cruising.
The Byron is only 4.7 inch thick and less bouyant and stable than, for instance, the iRocker Cruiser. Have said that, I'm 6'1 and weigh about 190 lbs, and the Honu Byron held up my weight well enough. If you are a lighter paddler, the Byron would be a great choice for an easy to paddle, all around board.
The Honu Byron has a large plush deck pad to keep you and your passenger comfortable.
If you prefer surfing, the Byron can do that too. This is where the 4.7 inch thick Byron has an advantage over regular 6 inch thick boards. The thinner rails of the Byron are easier to sink in the waves, making the Byron a better surf SUP board.
The Byron has a weight limit of 250 pounds and comes with a four-year warranty. So there's no doubt about its quality.
Other than the Byron inflatable SUP board, the package includes a backpack, pump, leash, and a repair kit. The paddle is not included but you'll get a good discount if you buy it with the paddle board.
The Byron is an amazing option if you want an incredibly versatile and lightweight SUP.
Check Price of the Honu Byron 10'6
Things to Consider When Buying an Inflatable Paddle Board
Buying the best inflatable paddle board for your needs goes beyond simply looking at what will fit your budget. While price can be a factor when choosing a paddle board, and indeed some cheaper paddle boards are OK, I recommend you think about some other criteria.
Here are a few considerations and questions you should ask yourself before investing in a paddle board.
1. Intended Use: How, and Where, Will You Use The Board?
The first thing to consider is how and where you'll be using your stand up paddle board. This will determine the type of board you need, to do the type of paddling you want.
For activities that require speed, like touring and racing, you will need a longer and narrower SUP. So you don't want to get a SUP that is under 11 feet long and over 32 inches wide.
For SUP activities like yoga, fishing, and paddling with kids, stability is more important than speed. So you will want to stick to wider paddle boards, 32 inches and wider.
If you prefer not to limit yourself to one or two SUP activities, consider an all-around SUP board. This type of board can be used in multiple ways, for different activities and in different conditions.
Almost all the stand up paddle boards discussed in this review are all-around SUPs, because they really do offer the best option for people looking to buy an inflatable paddle board. They perform well in most water conditions and you can use them for pretty much anything.
2. Budget: How Much Can You Realistically Spend?
While finding a board that has the right specs for your height, weight and the type of paddling you'll be doing is important, so is considering your budget.
One thing I have learned about iSUPs is that the price does matter. There is a distinct difference between cheap paddle boards and more expensive paddle boards.
While you can pick up a cheap board online for about $200 – it definitely isn't worth it. The quality of cheap iSUPs is incredibly poor, and will give you a terrible paddling experience.
My advice is to consider your budget and aim to shop toward the top end of that. You should be looking at an absolute minimum of $400 – $500 for an inflatable SUP.
3. Build Quality: What is the Paddle Board Made From?
Your inflatable SUP board's construction will determine its stability, durability, and performance, so don't be tempted to ignore the technical specifications when shopping for a new paddle board. Pay attention to things like the dimensions of the SUP and the materials it is made from.
Poorly constructed iSUPs don't last and they aren't rigid. They are the reason you will hear people complaining about issues like sagging or bending.
Some terms and tech specs you should watch out for include:
Military-grade PVC: High-quality boards are made using this, and will normally feature two or more layers.
Drop stitch technology: Quality boards will also feature a drop stitch core, meaning that there are thousands of polyester drop stitches between the top and bottom layers of the paddle board – resulting in extreme rigidity
Reinforced rails: Most boards include reinforced rails for extra rigidity; it basically means that the edge where the top and bottom of the board meet (the 'rail'), is reinforced with strips of PVC coated materials. This makes the SUP more rigid and robust..
Manufacturers include this information along with the other SUP board specs.
The warranty period is another key detail. Stay away from paddle boards that don't come with a warranty.
4. Accessories: Do You Need Any Extras with Your SUP?
Inflatable SUP boards usually come as a complete package–a carrying bag, manual pump, ankle leash, and a paddle.
The quality of accessories, however, differs.
For instance, cheap paddle boards come with a single-action pump while the more expensive ones will have a dual-action or triple-action pump. The dual-action and triple-action pumps inflate faster, with less effort.
Carbon fiber paddles are the best. Not only are they lightweight, but they also paddle more efficiently.
Aluminum paddles are the heaviest and least efficient. They mainly come with cheap inflatables.
Fiberglass paddles are lighter than aluminum paddles but not as light as carbon fiber ones. They are still great though.
Most beginners would be fine with an aluminum or fiberglass paddle. But experienced paddlers SUP a lot so they'll most probably need a carbon fiber paddle.
5. Design: What Sort of Features Does Your Paddle Board Need?
The features on an inflatable paddle board add to your comfort and help you customize your SUP.
Bungee storage allows you to bring a cooler deck bag, which I think is necessary, especially for long paddleboarding trips. Additional D-rings will let you attach a kayak seat so you can alternate between sitting and standing.
Check for accessory mounts too. If you're intending on doing some SUP fishing, you'll need somewhere to attach your fishing rod holders or an action camera.
You should also decide whether you want an inflatable board with all removable fins. Some people may prefer a removable center fin and fixed side fins.
6. SUP Company Reputation: Is it from a Trustworthy Brand?
Now, this is important.
There are so many paddle board brands around, but not all of them can be trusted.
Check whether the company has contact information and how they respond to customers' concerns. Brands like Atoll and iRocker are known for their fast and amazing customer service (which is one of the main reasons I recommend them as a trustworthy brand)
You want to know that your concerns will be addressed if there is a problem with your SUP.
Why Choose an Inflatable SUP Over a Rigid SUP?
You're probably considering buying an inflatable SUP (why else would you be asking what is the best iSUP available?)
However, you might also be wondering about how they compare to solid paddle boards, and whether they're as good.
I believe that inflatable standup paddleboards are better than solid SUPs in many ways.. Here are the top five reasons why you should consider buying an inflatable SUP board.
1. Inflatable paddle boards are easy to transport and store
This is probably the main reason why inflatable paddleboards were ever made.
Loading your rigid SUP board on top of your car rack isn't particularly easy. Neither is storing the board away after a long day of paddling. As for transporting a solid SUP on an airplane – that's a whole other story (it's definitely not easy).
An inflatable board doesn't have these problems. You simply deflate it and roll it up into the size of a sleeping bag! Easy to transport pretty much anywhere, and it takes up very little space.
2. Inflatable SUPs are lightweight
Inflatable SUP boards are light compared to their solid counterparts. It isn't especially difficult to carry an inflatable paddle board, even over long distances. The Atoll paddle board, for instance, only weighs 21 lbs. Even my two young daughters can easily carry it between them.
If you're not the tallest of people, or you have a long distance to carry the paddle board before you can get it on the water, then having a lighter board will definitely be a welcome benefit.
3. Inflatable paddleboards are soft, but still rigid
Some people question the rigidity of inflatable SUPs and how much weight they can handle. But they are actually quite impressive.
The iRocker All Around SUP, for instance, can carry up to 435 lbs, and the Atoll 11 is listed as 700lbs under test conditions. That should be enough for you, your friend and your dog, don't you think?
When you inflate an iSUP to the required psi, its rigidity will surprise you. It won't bend, wobble, or sink beneath you.
An inflatable SUP's surface is also softer and more forgiving than the surface of a solid SUP (in case of a fall). Quite ironic for something to be both super rigid and soft I know – but that's the reality of it. They're just the right amount of both.
4. Inflatable SUP boards are incredibly durable
This might be hard to believe but it is true. Inflatable paddle boards are perfect for paddleboarding near rocky shores and on rivers.
Boards made of fiberglass tend to get dinged when they hit rocky surfaces. Inflatable boards bounce right off.
However – this does not mean that iSUP boards are invincible. They can still get punctured if poked by exceptionally sharp objects, and are still susceptible to general wear and tear.
Overall, higher-quality inflatable SUP boards are extremely durable, and with proper care and maintenance they should last a very long time.
5. Inflatable paddle boards are affordable
Generally, iSUPs are cheaper than epoxy paddle boards. You can get an inflatable for as low as $200. However, I definitely do not recommend this!
A quality iSUP is still cheaper than a solid board – but you ideally need to invest $300 – $400 as an absolute minimum. This should give you a quality inflatable board and accessory package. A premium quality inflatable board will start at around $900.
To get a good solid paddle board, you will need a budget of at least $700. High-end ones will see you part with about $2500, with some costing as much as $3000.
This is not to say that all inflatable stand up paddle boards are cheap. Some are unbelievably expensive. But most inflatable SUPs are affordable, even the premium models.
What Are the Downsides of Inflatable Paddle Boards?
Like solid paddle boards, inflatable boards also have their downsides. It's important to be aware of the potential shortcomings of inflatable paddle boards, so you can figure out whether one is truly right for you.
The most obvious thing to point out is that iSUPs take time to inflate (and deflate). If you're using a manual pump, then the process can be tiring and time consuming – so this is something to think about.
Using an electric pump, or at the very least a foot pump, will help to speed things up – so this is definitely something you should consider investing in. I use the OutdoorMaster Shark II which I highly recommend.
It's also important to point out that inflatable SUPS aren't really designed for serious activities like SUP racing and surfing. For these types of activities, you're better off with a solid paddle board. These are generally faster than iSUPs – but they're also more expensive too!
Best Inflatable Paddle Board FAQs
Are Inflatable Paddle Boards Worth the Money?
Yes, inflatable paddle boards are absolutely worth it.
Good iSUPs are virtually indestructible, which means you won't have to worry about your board getting dinged. They are also easy to store and transport.
How Do I Choose an Inflatable Paddle Board?
When choosing a paddle board, you should consider the build quality, size, performance, accessories, and features.
Make sure it is well-made, the right size for you, versatile, and comes with all the features you need.
See the detailed buying guide above.
How Long Will an Inflatable SUP Last?
Inflatable paddle boards can last for years. This, however, depends on a few factors such as the quality of the SUP, how you take care of it, and how often it is used.
What Makes a Good Inflatable Paddle Board?
This will depend on what you are looking for. But generally, a good inflatable paddle board is durable, sturdy, and stable.
Can I Leave My Inflatable SUP Inflated?
Yes, you can. However, I'd recommend releasing a little pressure before storing so the seams are not stressed, especially if it gets warm and the air expands.
How Much Does an Inflatable Paddle Board Cost?
Inflatable paddle boards cost anywhere from $300 to about $1500. It depends on the quality of construction as well as the quality of accessories included in the package.
How Do You Store an Inflatable Paddle Board?
First, thoroughly rinse your paddle board with fresh water then let it dry completely. Next, deflate it, roll it up, put it in its bag, and store it in a dry place, away from sunlight.
Conclusion
So, which are the best inflatable SUP boards of 2022?
The Atoll 11 is my top choice for this year because it has almost everything any paddler would want in a SUP. Its construction is remarkable and it can take whatever you throw at it. I love the premium accessories too.
Its 700-pound weight capacity is also amazing, making it a good option for paddlers of all sizes.
The Atoll performs well in most water conditions. It balances speed and stability so well. Anyone would enjoy paddling it, regardless of skill level.
If you want a paddleboard with unmatched stability, I would recommend the Blackfin X. It is the best board for activities like SUP yoga, camping, fishing, and multiple riders.
You should check out the iRocker Cruiser if you are looking for an ultra versatile paddle board. The iSUP is suitable for most SUP activities, which is one of the reasons why it is so popular.
Do you have any questions about inflatable paddle boards? Feel free to ask below. Happy paddling!