25 Best Inflatable Stand Up Paddle Board Reviews (April 2018)
Are you looking for a new inflatable stand up paddle board? As you know, there are many brands and models to choose from and they come at different price points. So finding the best inflatable paddle board can be a bit of a challenge.
Keep in mind that the 25 boards in these inflatable paddle board reviews are all of great quality. But depending upon your experience level, your length and weight, the type of paddle boarding you intend to do, and not to mention your budget, some of these boards will be better suited for you than others.
Best Inflatable Paddle Boards Under $600
Best Inflatable Paddle Boards $600 - $800
Best Inflatable Paddle Boards Above $800
Paddle Board
L x W x H
Weight
Capacity
Rating
Stand On Liquid Chelan 12'6 Inflatable SUP
12'6" x 31" x 6"
26 lbs
300 lbs
Body Glove Performer 11' iSUP
11' x 34" x n/a
24 lbs
320 lbs
The 25 Best Stand Up Paddle Boards
Read our 25 best inflatable paddle board reviews for the pros and cons of each board, to help you decide which board is best for you. If you're looking to spend less, have a look at these cheap paddle boards.
The Atlantis iSUP board was built tough to endure just about anything that comes its way.  Structured the exact same way a fiberglass board is, the Atlantis has an easy install tri-fin system for optimal wave riding and stable cruising. Buyers can look forward to ordering either a standard package or premium package that includes a paddle board leash.
The board features a cool arctic blue trim, with the Atlantis logo across the upper top, black gridded deck pad, and cross section back bungee straps. With a center handle grip, riders should have no issue with lugging the 35 Ibs. board to the water. The total package comes with an adjustable paddle, air pump with PSI gauge, and a backpack carrier bag. The inflate time on this board is around six minutes and holds air like no other. The pressure the Atlantis iSup can hold has even been tested under the weight of a Jeep.
Its extra thick durability creates excellent buoyancy with a width of six-inches and a maximum 20Ibs-psi. The reviews speak for themselves when they say this board was made to endure rough waters. The Atlantis Paddle Board is an ideal board for all body sizes with a water recommended maximum weight capacity of 398 Ibs. Whether your starting out in the sport of SUP or your a salted weekend warrior, this iSup delivers it all to every skill level.
Features:
Sizes: 10'6″ x 30″ x 6″
Comes with adjustable paddle
Dual Action High Pressure SUP air pump with PSI gauge
Light weight backpack carrier bag. 6 minute inflate time.
2 Year Manufacturer Warranty
Quality material, ultra-durability, floats anyone close to 400 Ibs.
Heavier than the average iSup.
Created by a company who believes in their rider's satisfaction, the Atoll 11' x 32" x 6" iSUP is known as one of the most durable boards on the market. The narrow shape makes for a sleek ride across the water and easily maneuverable on small to medium sized waves. The triple fin system is detachable and allows for great control and stability.
This inflatable stand up paddle board has a sense of aggressiveness with its sharper than normal features and squash tail. The military green color and black trim surrounds a two-tone black and white grip pad.  The solid Black Buffalo vector rest at the nose of the board and the grey bottom has a black militaristic star emblem across the middle.
There is your pick of D-rings lining the rails making it easy to attach accessories. There is also a bungee strap in the upper middle for tying down small coolers, tackle, or life jackets. The Atoll Paddle Board offers great stability for riders up to 300 Ibs and is a highly recognized board with an excellent Amazon rating.
Read my hands-on, in-depth review of the Atoll Paddle Board
Features:
2 Year Manufacturer Warranty
Light Construction Dual layer PVC – 30%
High Pressure Bravo Dual Action 3rd generation hand pump (up to 15psi),
Repair Kit
Front and Back Bungee Tie Downs
Travel backpack with waist strap
High durability
Pricier than most iSup packages
Options are great when it comes to the Bic Sport iSup. The renowned Bic company has made the ultimate inflatable fun-shape paddleboard and it comes in a a variety of seven different sizes and four different color designs.
Customized specifically to fit your personality and style and with a Dyneema stringer, there is more rocker support and stiff durability. Sizes vary from 8'4 to 12'6. All models have a wide and sturdy base foundation and are capable of floating weight up to 240 Ibs.
The Bic Sport Air has a 15 psi inflate limit and weighs 20 Ibs. The middle and rear separate grip pads are white with a orange and tangerine colored double stripe design cutting across the surface of both the diamond grip EVA pad and the board.
The Bic Sport comes with a cross bungee strap on the upper middle of the board and a center handle that makes for easy transportation. This board provides amazing rigidness with its design and is primarily for beginner and intermediate riders.
Features:
Universal center fin box with removable center fin (additional fins standard on certain models)
Oversize backpack
Heavy duty 2-way pump with pressure gauge
Repair kit
Variety of sizes and durability, Dyneema stringer for rocker support.
Slightly narrow for style and performance preference.
Body Glove is legendary on the beach scene when it comes to their unique and vibrant style, and the grass roots style of the company shows in the Body Glove Performer iSup.
This white and yellow board features a narrow short board type design and comes in one standard size of 11' x 34" x 6". The triple layered stringer makes for optimal strength and durability. It takes only four minutes to inflate and weighs 39 Ibs.
The bottom design is a traditional yellow pin stripe with the Body Glove logo in the center, and the same logo design is on the black nylon carry bag with a clear plastic pocket.The surface design features an identical yellow stripe and logo with a grey and yellow custom cut grip pad and a bungee zig zag strap holder in the upper center of the board.
The Body Glove Performer has two air ports at the front and rear of the board for easy inflate and deflate accessibility. When you choose a board from a highly recognized company in the surf industry, you receive expert quality for the price you pay. This is an all around board for beginning or intermediate cruisers and surfers.
Features:
Comes with pump, paddle, leash, backpack, repair kit and dry bag
Patented multi-purpose handle
Sleek, great for waves and calm water, squash tail for stability
Max. weight capacity: 320 lbs.
One size one color scheme
The Driftsun iSup is a very affordable paddle board for the amazing quality it provides. The Driftsun 10' x 32" x 6" iSup comes with everything you need in its package.
The board is in the shape of a traditional longboard style and has a sky blue surface with a triple white stripe down the center stringer. The Driftsun logo is located on the rear as well as on the front center. A grey single traction pad is attached to the surface and includes three fins for maximizing stability and control.
The Driftsun Paddle Board quickly inflates and deflates full under five minutes and weighs only 23 Ibs. Its rigid construction and superior military grade drop-stitch interior can hold weight up to 300 Ibs. It has been said that when fully inflated, it resembles the texture and performance of a fiberglass board.
A center handle is equipped for easy carry along with front nose and rear tail straps for assistant transporting.
Features:
Deluxe fiberglass paddle
Front bungee for storage
Nose and tail carrying handles
Backpack carrier
Hand pump with PSI gauge
Repair kit
Detachable fins
Deluxe Fiberglass Paddle
Great beginner board, superior thickness, extremely light weight, multiple grab handles.
One size and one style.
The iRocker was built for fun on the water. The iRocker is a 10' x 32" x 6" iSUP with a royal blue base color, two white pin stripes dividing the center and solid black rails. A gray grip pad reveals the iRocker logos on the front and center of the pad and an exterior handle grip, three fins, and a upper bungee tie-down makes this a perfect weekend board with great versatility.
Plenty of accessories come with the iRocker iSUP board including a collapsable fiberglass paddle, air pump and carrier back pack with padded shoulder straps and a neoprene back pad, all matching the board with matching blue and white logos.
This inflatable stand up paddle board weighs a mere 22 Ibs and is capable of holding up to 350 Ibs on the water. The triple fin system adds for great stability and control when riding waves and there is a leash connection on the tail. It fully inflates with 15psi and takes only minutes to reach full capacity.
Made of military grade drop stitch material, this board is tough to break, and is meant to endure all skill levels as well as calm or choppy water.
Features:
Hand pump
Foldable fiberglass paddle
Three fins
Adjustable cushion back pack with padded straps
Repair kit
Durable, Lightweight, All-round Board, Two year Warranty
No Leash with package, limited to one size and style
The iRocker cruiser is available in one size of 10'6 x 33" x 6" and comes in one style that is a white base color with blue center and rail trim with a black grip pad with the iRocker logo down the side as well as on the Portside rail and across the center bottom in bold print.
Included on the upper center portion of the iRocker Paddle Board is a bungee strap down cross pattern for strapping down your life jacket, cooler or tackle in a 3.3 sq-ft of volume. This board has a three fin system and offers excellent stability in the chop.
The Cruiser is larger than the 10 foot iRocker All-Around iSup by six inches in length, and 1 inch in width, but has the same thickness at six inches. The rounded tail is wider as well, so if you're a larger rider, this would be your best bet for maximum stability while on the water.
There is more of a gridded texture and design to the grip pad which is more appealing than usual and the center handle is all black for a sleek non noticeable look. The max inflate of this board is 15psi and with 33" of standing room, you'll be sure to have a smooth and balanced ride.
Features:
Hand pump
Foldable fiberglass paddle
Three fins
Adjustable cushion back pack with padded straps
Repair kit
10' coil 7 mm leash
Larger, more stable, leash is included maximum durability, Two year warranty
Similar to the other model iRocker in color, only six extra inches than the All-Around model and an inch wider.
The iRocker iSup Sport was designed for extra speed and snappier maneuverability. The iRocker measures 10' x 30" x 6" and its  triple fin system helps keep this torpedo shape in the right direction and adds to a stable flow when attempting cutbacks on the waves.
Constructed with a triple layer military grade PVC material, this board can withstand a beating if put through one. With a max weight of only 20 Ibs, this narrow board can float up to 350 Ibs.
The Royal blue is split by a double white pin stripe down the center and the white single grip pad boasts the light blue iRocker logo at the rear and front as well as a large iRocker logo at the bottom center. When folded the iRocker Sport takes up less than three feet of space.
Features:
Hand pump
Foldable fiberglass paddle
Three fins
Adjustable cushion carry pack with padded arm straps
Repair kit
10' coil 7mm leash
Lightweight, fast, narrow pin tail
Very similar to other style and sizes of boards, may not offer maximum support with a 30'-inch width
The Isle AirTech is an extremely light iSup that has been crafted by native California Paddleboard makers since 2004. Coming in at only 17.5 Ibs, it has claims to be 30% lighter than average inflatable boards. This 10' x 31" x 6" paddle board can float riders up to 240 Ibs. and its ultra durable construction is made with military grade PVC material that inflates to 15psi.
You will love the rounded thickness of the Isle AirTech. This is the ultimate beginner board with proper thickness and wide nose. You will have no issues learning the basics on the water. The simple blue top with a row of reflective stripes coming off the upper rails present a sleek and stylish sup with white rails and bottom.
The Isle logo is also printed vertically in the middle as well as on the grip pad, which is a two tone color of black with white lower edges. A front handle on the nose makes for easy transportation along with the center grip handle. A bungee strap is located on the center as well for easy strapped storage for your personal belongings. Recommended for calm water and small waves.
Features:
Hand pump
Foldable fiberglass paddle
Three Fins
Carry pack
One year Warranty, all around versatility
No repair kit, no leash, bulky design makes it float, however may be slower for upper skill levels.
The Isle AirTech Explorer is a step up from the ten foot version and slightly pricier, however you pay for quality and a versatile board that is still convenient for all skill levels. The Explorer measures 11' x 32" x 6" and has a pintail and a more arrow shaped nose compared to the AirTech 10.'
The AirTech 11′  weighs 19.1 Ibs. and floats riders up to 275 Ibs. It has extra gear storage in the upper center of the board and utilizes the bungee strap function to tie down your belonging for those long all-day paddle explorations.
The Explorer comes in a metallic gray color with a neon yellow Isle logos and accents on the black grip pad. A highly visible board for limited visibility on the waterways. You will definitely be seen on the water when riding the Explorer and its extra foot of space adds for more walking space, and even space for an extra rider.
Features:
Light Weight Hand pump
Travel Paddle
Three fins
Carry Pack
Repair Kit
One-year warranty, all around versatility, longer narrow shape increases speed and maneuverability, Highly visible
No leash and no variation in design.
The Isle Airtech 12' Touring iSup caters more toward intermediate and upper skill levels who want to spend a little extra. For a California paddle board company that's been in business since 2004, Isle continues to innovate with great shapes and designs for their inflatable iSup series.
The color variation really makes the AirTech iSUP pop with a sharp style of light gray, ash gray, and a solid red. This touring style board supports 275 Ibs on the water and is made with a military grade PVC material for reliable endurance.
The upper center bungee chord contains an X-pattern for securing your personal belongings, and the rubber exterior handles are located in the middle center as well as on the nose. This is a solid iSup with plenty of walking room. Its compact once deflated and easy for storage. The perfect cross lake or shore cruiser for the summertime.
Features:
High Pressure Pump
Travel paddle
Three fins
Carry pack
Sharp features, sleek ride, Highly visible. One year Warranty
Doesn't include leash or come in any other designs.
The 11'4 x 31″ x 5.9" Puffer iSup has a short surfboard type design with a square tail. The ultimate size for all skill levels, this board has strong stability along with endurance with its PVC material and nylon tether dropstitch. Riders under 270 Ibs will enjoy a rapid float and paddle speed on the 11'4 Puffer.
The Jimmy Styks Paddleboard company is known for pumping out sleek shapes and designs with a tropical pop to them. The Puffer has a reliable and rigid dropstitch construction and features a white solid base color with arching turqois trim from mid rails across the nose. Double neon green stripes go down the middle until meeting with the grip pad specifically designed beneath the cross section utility tie downs. The second aqua blue color grip pad covers the rest of the surface and a JS logo covers the tail. It has a wild style performance appearance and chill color tone with the green, aqua and white offset.
Riders can look forward to speedy rides and catching solid waves with this inflatable paddle board. It's Roll-n-Go portability makes for easy carry and storage. This iSup made to last and with an excellent rating on Amazon, the Jimmy Styks Puffer continues to please all rider skill levels.
Features:
Comes with a hand pump, foldable fiberglass paddle, board bag and coil Leash
Three Fins
Sleek sharp and colorful look, sturdy volume, Roll-n-go portability
One color scheme, no warranty listed.
The 11'5 x 32″ x 6″ Mistral Adventure iSUP has a unique color scheme to a board that was built tough. The white base sup has blue rails with arching red trim on the sides bordering a blue two color offset design with the logo on the both rails. A cross section bungee strap down is included above the center handle piece, and the gray grip provides great stability as well as flare to the sleek surface design.
The military grade dropstitch material makes for an extra strong hold for the double layer interior. The Mistral logo is seen in various sections of the board as well as on the pump and carry bag. The Adventure 11'5 comes from a renown watercraft company and you get what you pay for. This board is priced higher than most inflatable stand up paddleboards, but you receive outstanding longevity in a iSup that was made to last.
Features:
Comes with a hand pump, foldable fiberglass paddle, three fins and board bag
Neat design, durability, stability, unique grip pad design
No leash, no listed warranty, expensive than most iSup brands, one design.
The Peak iSup sold by Isle Surf &SUP comes in two sleek color styles. This 10'6 x 31" x 6" inflatable paddle board is great for all skill levels and comes at a competitive price. The Military grade PVC material and six-inch thickness floats riders up to 300 Ibs. and with a inflated weight of 23Ibs. and 15 psi, the front grip and center grip handles make for easy transportation.
The black full-size grip pad bears the Peak mountain logo in large grey print across the diamond cut grip pad, and is also located on the bottom surface of the board with the printed Peak logo as well. This single fin board comes with the fin included as well as a signature series paddle to match the board. A large cross pattern bungee strap covers a majority of the nose volume and is great for transporting what you need for the day.
Features:
Comes with a hand pump, foldable fiberglass paddle, single fin, carry pack and coiled leash
Two style varieties, durable material, proper thickness, cool design, one-year warranty
Single fin, one size to choose from.
The Red Paddle Co created the ultimate package for all skill level paddlers with the iSup MSL. The average sized 10'6 x 32" x 4.72" is a new 2017 style with plenty of flare and with the Monocoque Structural Laminate for quality strength.
The white top and blue bottom sports the Red Paddle Co logo in various locations through out the board primarily on the nose and atop the blue and gray grip pad. A center and rear grip handle makes for easy transportation and if you like to adventure with your paddle experience, this is a versatile board and can be used for whitewater, yoga, or your daily cruise.
The thickness is slightly thinner than most inflatable models just under five-inches. The carry backpack is of a quality sharp and compact design with padded red arm straps and clear license holder. If you like accessories, this package comes with it all, except the paddle. The price is quite high for an inflatable paddle board, but is understandable for the amount accessories included.
Features:
Comes with a RPC Titan Hand pump, repair kit, three fins, waterproof phone/wallet case, carry back pack and bonus ERS Gauge
Great stability, material, solid design, more accessories than most brands offer.
One style and color design to choose from, paddle not included. Relatively thin board.
If you're a rider who likes a great amount of walking length, or maybe you like to ride tandem with another person or pet. The Red Paddle Co Explorer 13'2 x 30" x 5.9" is the ultimate touring iSup and has many state of the art features for maximum endurance and stability.
The basic white base color has a busy surface of a signature Explorer logo blue Grip pad with a double box cross bungee strap on the full front of the board and a small rear cross bungee strap on the tail. Three handles located on the front center and rear tail. Blue Camp grip strips are attached beneath the front bungees and lead to the nose where a Red Paddle Co logo stands out in red.
The FCS fin system makes for easy attachment and detachment and there are a various amount of D-rings located on the board for attaching accessories or a leash. The material design is unique for this touring iSup and sports the same Monocoque Structural Laminate and fusion composite as the 10'6 iSup. A reinforced composite with a dropstitch core works with the Ram mounts and features a screw thread that is compatible with a variety of accessories. The ram mounts and quad layer rails with a multi-fin design provides ultimate stability and durability for the long length of this iSup.
Features:
Thermosealed non-slip crocodile deck pad
Bow cargo tie-downs w/ stainless d-rings
Hand pump
Foldable fiberglass paddle
FCS Fin
Repair Kit
Carry Pack
Water resistant phone case
Great amount of accessories, size and walkable room, speed and lightweight performance, versatility
Expensive, no paddle included
The Chelan iSup is a work of inflatable art when it comes to this genre of SUP. The 12'6 x 32" x 6" inflatable touring paddle board is sleek, cool, and artistic for average to experienced riders. This board is priced to sell and with the accessories included, buyers can expect quality.
The cool blue color tones with the gray foundation color is appealing to the chill vibes that the seven years and running Stand On Liquid SUP company provides its users. The royal blue grip pad has an artistic silhouette vector of the Stand on Liquid logo at the bottom and has the logo printed across the bottom gray surface.
The Chelan board looks just as sleek as its narrow shape and holds maximum strap down pressure with the bungee straps located at the from end of the board.This iSup is meant to glide across the water's surface and can hold weight up to 300 Ibs. Great for cruising the backwaters or up and down the shoreline. This 26 lbs. iSup is made with ultra durable material including a dual layer 500 Denier PVC and can hold a strong 20 psi maximum. The seems of this inflatable stand up paddle board are also welded with a waterproof material to decrease chances for ripping.
Features:
Stylish blue back pack Carrier
Hand pump
Thermo-sealed non-slip crocodile deck pad
Foldable fiberglass paddle
Three Fins
Coil leash
Patch Kit
Cool colors, Many included accessories,
One Design and Color available
Stand On Liquid Newport 11′ Inflatable Paddle Board
The 11' x 32" x 6" Newport has a great versatile round nose shape and is an ultra-durable iSup has a white solid base color with a quad stripe blue pin stripe design down the port side of the top surface. The gray grip pad has a large wave curl design with white blue and aqua design. The center grip handle offers great transportation and maneuverability and this board is light enough for anyone to carry at 26 Ibs.
The Newport fully inflates at 20psi and is constructed with a dual layer 500 Denier PVC Nylon with welded seams. This board is highly visible and bright, great for day and night paddling. The triple fin system allows for direct stability and balance.
This Stand On Liquid Paddle Board is an all around good board for white water, yoga, surfing, or cruising in calm water. The six inch thickness creates a great buffer zone and optimum buoyancy for riders up to 300 Ibs. Other features include a D-ring for leash attachment, center handle grip, and cross bungee strap in the front center of the board.
Features:
Dual action Hand Pump with psi Gauge
Foldable fiberglass signature Stand on Liquid Paddle
9-inch Fin plus two small side fins
Patch Kit
Coil Leash
Stylish Blue Carry pack that also fits folded paddle
Multiple accessories and versatility for a quality price, One-year warranty
Only one color design available
The Ten Toes Weekender is an extremely unique board that will be sure to catch a few glances from fellow paddlers. The 10' x 30″ x 6″ comes in a variety of colors ranging from red/black, blue, green, blush pink, and sea foam with white trim. These colors pop and the durability is sturdy even with a 30-inch width.
The square tail adds balance and stability for the rider and the diamond cut grip pad comes in either a solid black or white color. The Ten Toes logo is across the nose of the board as well as the bottom surface in the center. Other board features include a grip handle, three fins, D-ring for leash attachment, and a solid formation of bungee straps in the upper center portion of this iSup.
The Weekender is a stylish and sleek inflatable paddle board for all skill levels. You'll be sure to have fun cruising or even hitting mediocre waves. This is an average to lightweight board weighing in at 27 Ibs and floats riders up to 250 Ibs. The military grade PVC dropstitch keeps a strong hold for the interior of this board and inflates in minutes. You'll be able to keep track of your board's psi level with the gauge attached to the pump.
Features:
Hand pump
Three piece adjustable paddle
Three Fins
Two year warranty
Different unique and sleek design, Two Year warranty, three fins, multiple two tone colors, durable military grade PVC material.
No carry bag
The Thurso Surf iSup is the perfect midsize board for the beginner to intermediate rider. A unique bamboo wood design covers the surface of this board with the Thurso black printed logo on the top surface of the nose.
The single fin style bamboo iSup resembles the traditional woody style with a cross bungee strap on the front center of the board, just above the white straight-line grip pad. The six-inch width with the Thurso brand logo printed in black across the white rails adds to its sleek look and you can expect optimum balance when in motion.
The dropstitch internal fabric is made of military grade PVC and consists of multiple layers. It weighs 25 Ibs and the strong fabric materials make for durability and this iSup can hold riders up to 280 Ibs or over 280 Ibs for experienced riders.
The medium length at 11 feet makes for great versatility if you want to cruise for the day or hit the waves and rapids. With a 32-inch width and square tail, you have an efficient amount of room for a broad stance, and the thickness provides the right amount of buoyancy for kicking back for a float. Many amenities come in this package and it all comes at an excellent Amazon rating.
Features:
Hand pump
Carbon shaft adjustable signature paddle
Single Fin
Leash
Wrapping strap
Black carry pack with plastic window storage pocket.
Bamboo style is unique, reasonably priced package, all-around versatility, deck bag
One size, single fin, traditional lined grip pad is slightly outdated.
The 9'10" x 31.89" x 5.91" Tower Adventurer is one of the most reliable and durable inflatable paddle boards on the market for a very reasonable price. You don't necessarily get a huge package of accessories with the Tower Adventurer, but you get the essentials to get you moving on the water.
Buyers can look forward to a 3-piece adjustable fiberglass paddle. This iSup features a center handle grip, read D-ring, and three detachable fins. Inflates up to 15psi and the highly durable, military grade PVC material makes for excellent durability. The white solid base is highly visible on the water and the three gray pinstripes give it a simplistic retro look.
The black grip pad is of decent size but looks slightly more narrow than regular deck grips on both hard boards and iSup models. The rounded nose is perfect for beginners and for a board under ten feet in length, this is perfect for smaller riders. The pump comes with a gauge and the paddle has a length extension. The Adventurer is perfect for those all day excursions or just hanging out on the shoreline with the family. Affordable, simple, and with a very high rating on Amazon.
Features:
Comes with a hand pump, adjustable fiberglass paddle, three fins
Very Reasonable price for quality, durable and simple. Two year warranty
One size and style which is small at 9'10", Grip pad is smaller than average surface coverage, no carry bag or leash, no bungee strap
A step up from the original Adventurer iSup, the Adventurer 2 model resembles the same style but a more narrow shape and pointed nose.
A similar basic retro style pinstripe style is used for the Adventurer 2, but with a Tower logo in the from center of the board.
This inflatable stand up paddle board contains a simplistic package of the adjustable fiberglass paddle and hand pump. The PVC military grade drop stitch interior holds a maximum weight of 350 Ibs which is highly efficient for its 10'4" size.
A black grip pad covers the surface, but again is sleeker in size than most, average iSup models.
Features:
Hand pump with gauge
Adjustable fiberglass paddle
Three fins
Very Reasonable price for quality, durable and simple. Two year warranty
One size and style, Grip pad is smaller than average surface coverage, no carry bag or leash
The iRace by Tower Paddleboards is a sleek and stealthy iSup with an all black color with black grip pad, and white pinstripes down the center and white Tower logo and brand accents. The black adjustable paddle makes for a tactical looking set up for the iRace and the dimensions are 12'6" x 30" x 6". With a 27 Ibs. overall weight and a maximum 15psi inflate (but ready to ride at 10psi), this board was constructed with a military-grade PVC material and dropstitch construction for ultimate rigidness and durability.
A great inflatable paddle board for cruising quickly over the surface with its narrow long design and can hold up to 350 Ibs. The iRace is also great for tandem rides with another person or pet, or hitting the small waves.
The features on this board are a middle grip handle insert, rear D-ring for leash attachment and this package, though limited, includes the essential pump and paddle. When rolled up this iSup becomes very compact and is only one foot in diameter and 33-inches wide. Great for storing in a home garage or in your car trunk. This board is reasonably priced for its shape, design and unique appearance.
Features:
Hand pump
Foldable fiberglass paddle
Three Fins
Carry pack
Extreme rigidity, durable, floats up to 350 Ibs. Two year warranty
Basic package comes with essentials, no leash, travel bag included
You will absolutely be seen on the waterways with the vibrant red color of the Xterra 10' iSup. A solid package is included with this purchase and you get it all at a very reasonable price. This inflatable paddle board is double sided with a highly visible red base color with black trim, a black straight-line grip pad, black fins, and a black grip handle.
Also included are dual D-rings located at the tail and the nose for attaching a leash or accessories, and a bungee cross pattern strap is located on the upper center of the board. The Xterra Boards Logo is displayed on the upper center, toward the nose of the board as well as in bold lettering on the side rails of the board.
The Xterra weighs 29 Ibs which is about average for an inflatable sup board and supports riders up to 250 Ibs. This 10' x 30" x 6" standard size board inflates in under five minutes and the extremely rigid material makes for a long lasting durability. The Xterra 10 foot iSup has a superb rating on Amazon and riders can expect a great deal of quality accessories for a solid reasonable price.
Features:
Hand pump
Foldable fiberglass paddle
Three Fins
Roller Bag Carry BackPack
Leash
Mini dry bag
Repair Kit
Five-year warranty on repairs, highly visible, dependable construction
Another great board made by the Xterra Paddleboard company is the touring iSup. Coming in at a lengthy 12'6 x 30" x 6" this is the ultimate cruiser for covering long distances quickly and can easily float riders up to 270 Ibs.
The Xtrerra's red and black design is highly visible on the water, which is always a plus when in limited visibility, and the military grade PVC drop stitch construction and double sided reinforcement is great for long lasting durability and enduring the aquatic elements. This board looks as if it were built for intermediate to upper level riders, however a number of users claim it is a great all around board for the whole family.
The Xterra Touring features an all black straight-line grip deck with dual D-rings on the front nose and rear tail for attaching accessories, a bungee strap in the upper center of the board for securing belongings on those all day paddle excursions, and a three fin system for ultimate stability and board control. The Xterra is reasonably priced for the size, shape and durable construction of this board and it includes a one-year warranty.
Features:
High pressure hand pump with gauge
Foldable fiberglass paddle
Center Fin
Carry pack
Leash
Excellent Amazon rating, reasonable price for size and durability, One year-warranty.
Not intended for beginners.
Should You Buy An Inflatable Stand Up Paddle Board?
When inflatable paddle boards first entered the market there were concerns about their durability and rigidity. For some people the concept of inflatables made them think of rubber ducks and children's floaties. Since then inflatable paddle boards have shown the error of these misconceptions, and have deserved a reputation as a great compact, lightweight, durable and often cheaper alternative to rigid paddle boards.
Let's have a look at some of the advantages of inflatable paddle boards:
Inflatable paddle boards are compact
This is probably the main reason why inflatable SUP board were ever made. Unless you live right by the water or own a large vehicle, transporting a rigid paddle board is often a pain.
Not so with inflatable paddle boards. When rolled up they are often no larger than a sleeping bag. So bringing one along while traveling is easy enough. And storage isn't an issue either. Any shelf space will do.
Inflating and deflating these paddle boards does take some time and effort, but is usually seen as part of the work out experience. And an electrical pump can make this process easier as well.
Inflatable paddle boards are lightweight
Have you ever tried to carry a solid paddle board? Well, no such problems with the best inflatable paddle boards. They are generally much lighter. Often weighing less than 30 lbs. For instance, the Isle Airtech above only weighs about 18 lbs.
So you can take an inflatable paddle board with you on a plane ride without worrying about extra airline fees. And carrying one from your vehicle to the water and back is no backbreaker any more.
Inflatable paddle boards are rigid
This is the most often asked question people have about inflatable SUP boards: "Can they carry my weight?" With the right size paddle board, of course they can!
Some of the cheaper or thinner paddle boards may bend or sag in the middle, or may even sink beneath you. But the better quality inflatable paddle boards are usually just as rigid as their solid cousins. And since they are filled with air, inflatable paddle boards usually also have a lot of buoyance and a larger weight carrying capacity than a similar shape rigid paddle board.
Inflatable paddle boards are durable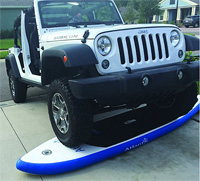 This is another question people often have of inflatable paddle boards: "Are they durable? Won't they spring a leak when I bump them into a rock?" The fact is that most inflatable paddle boards are made from heavy-duty, military grade materials and can take a lot of abuse. Epoxy foam is very strong. And double layers of PVS stitched together with drop stitch construction make them withstand almost all bumps and scratches.
In fact, because of their inflatable nature iSUPs are often a bit more forgiving then their traditional fiberglass cousins. When you ding a rigid paddle board, the fiberglass is not as flexible, so a solid board is more likely to crack and chip. However, the more flexible materials of an inflatable stand up paddle board can take the impact much better, making them often the better choice in rocky conditions.